GFL – Page 0015
Grouping For Looks is a page-by-page retelling of the Looking For Group saga through the lens of a mirror universe where Cale is a goateed tyrant and Richard is a holy soul trying to set him on a good path.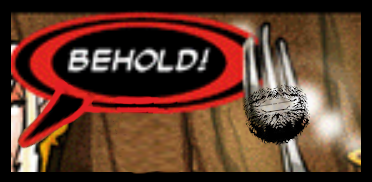 INT. MOUNTAIN – DAY
The group sits around a fire, eating mush on actual plates. Let that sink in: Whoever brought or conjured provisions skimped on the food but really delivered on flatware.
CALE
I cannot fathom how we spent such energy, arrows, and magic on avoiding a fight.
I betrayed my conscience, I betrayed who I am, I betrayed what I do, I betrayed everything I stand for.
Benny turns to Richard, who stands pensive and focused while grabbing his own boney butt.
BENNY
Would you explain to him the virtues of living and running away to fight another day?
RICHARD
There are virtues to fighting another day?
Benny rolls her eyes, but Richard isn't having it.
RICHARD
Commander Temmet asked for his gold. Is there no way we can help you pay him back?
Cale perks up.
CALE
Like, a heist?
RICHARD
I- Do you hear the most illegal version of everything said?
BENNY
It doesn't matter, the gold is not what he wants.
RICHARD
I thought his "where's my gold, Benny?" was pretty clear.
CALE
Sounds like the pot calling the kettle black before smoking it.
BENNY
He paid me the gold to go on a quest. I abandoned the quest pretty quickly.
KRUNCH
Good. Any fool lazy enough to pay for someone else to quest for him deserves to be robbed.
A compliment from Krunch causes Benny to lose track of what she was saying.
KRUNCH
Unslack your jaw, child, you look like a green goat choking on its cub.
And the moment's past.
RICHARD
What quest did you agree to?
BENNY
A fetch quest. For THE SWORD OF TRUTH!
CALE
I'm in!
BENNY, RICHARD, AND KRUNCH
You are?
CALE
Of course! The Sword Of Truth is the stuff of legend. Being so much as in its presence, one feels the influence of its magical power.
RICHARD
What power would that be?
CALE
Anger!
RICHARD
It gives you the magical power of anger?
CALE
And how!
RICHARD
You seem genuinely excited about this.
BENNY
Probably because he plans to get the sword and stab us all with it.
CALE
Angrilly!
RICHARD
Then Aelloon will turn his attention to you.
CALE
Not if I give him this! Behold! The Fork of Truth!
Benny and Richard start walking away. Krunch, riding Sooba, follow. 
CALE
"Lovely eyes you had, Commander," I say angrily. "Had!" I add, angrily.
Cale makes stab gestures. Like, a lot of stabbing gestures. He notices the rest of his group has abandoned him. 
CALE
Trust me, this Fork Of Truth bit is way funnier than you think.
I can't even explain how funny it is. Or why.
GFL Archives
Original: LFG Page 15
First Grouping For Looks: GFL 001
Previous Grouping For Looks: GFL 014