GFL – Page 0060
Grouping For Looks is a page-by-page retelling of the Looking For Group saga through the lens of a mirror universe where Cale is a goateed tyrant and Richard is a holy soul trying to set him on a good path.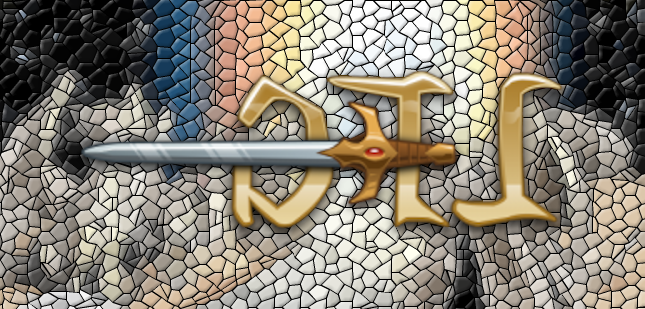 EXT. THE DESERTS OF KETHENECIA – DAY
The yellow flash of light recedes. It pulls back into an aura around a majestic city, at the end of a mithril pathway flanked by a half dozen more sand dragons.
CALE
"Close the eyes with the path to uncover the road!"
Cale leaps off a surprised and now winded Richard's back onto the first dragon's shoulder. He slices his bloody swords across its eyes, then springboards off its snout for the next one. 
KRUNCH
You've already uncovered the road!
BENNY
He can't hear you over his sound effect parroting, sir. 
CALE
Woosh! Splurt! Sproing!
Cale's swords woosh, bursting eye blood out with a splurt, before he leaps for the next dragon with a sproing.
KRUNCH
Get down here!
RICHARD
Oh, there's only a few more left. And he's enjoying himself ever so much.
Richard, Krunch, and Benny stand by as Cale finishes up.
CALE (off panel)
Chuck-chuck. Pow! Thut. Krrrrukk. Blaat! Whup! Skuk. Chuk tut sskk! Whap-whap-whap-whap-
RICHARD
Any minute now.
CALE (off panel)
Whap-whap-whap-whap-
Krunch gives Richard the stink eye. Richard shrugs.
CALE (off panel)
Whap-whap-whap-whap-whap-whap-whap-
BENNY
Anyone else getting uncomfortable?
CALE (off panel)
Whap!
Cale returns to the ground, greeting Richard, Krunch, and Benny with a jutting grin. 
CALE
I uncovered the road!
The group regards the road to Kethenecia, and the glowing city on the horrizon.
KRUNCH
Soon I will rid myself of these fools.
BENNY
Aelloon will never find me there, or find out what happened to his son.
CALE
I will fulfill my destiny as the greatest ruler history has ever known.
The group looks back at Richard, who returns a disapproving gaze.
RICHARD
I. Will. Redeem. You All.
How is that not clear by now?
GFL Archives
Original: LFG Page 60
First Grouping For Looks: GFL 001
Previous Grouping For Looks: GFL 059