GFL – Page 0058
Grouping For Looks is a page-by-page retelling of the Looking For Group saga through the lens of a mirror universe where Cale is a goateed tyrant and Richard is a holy soul trying to set him on a good path.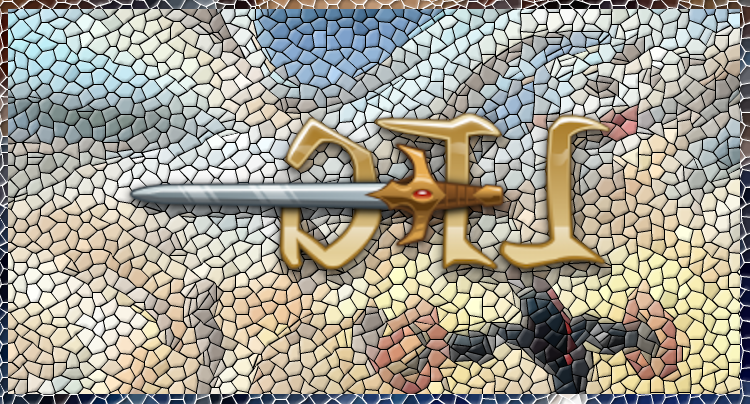 EXT. THE DESERTS OF KETHENECIA – DAY
A sand dragon bears down on the group. Next to a quiver of scrolls, Krunch runs down an unfurled scroll, muttering to himself.
KRUNCH
The eyes. The scroll said something about the eyes.
BENNY
No, that was me.
Out of view, sand dusts off as a fiery air fwooms.
KRUNCH
"Close the eyes with the path to uncover the road."
Fwoom.
CALE
Easy enough.
Cale turns to face the sandy beast, only to find a glass dragon in its place. Richard stands proud before it, his hands aglow with flames.
RICHARD
Ta-da!
Cale scowls and reaches into the scroll quiver.
CALE
I don't think so.
Richard's pride leaves him instantly.
RICHARD
What?
Cale pulls out the Dungeon Masters Guide.
CALE
It says right here, "Don't be a Dick."
RICHARD
I-
CALE
What, is the DM supposed to know how glass is made?
RICHARD
Well, I-
CALE
Did you just make a big old I win button for any sand creature he throws at us?
Richard hangs his head in shame.
RICHARD
I'm sorry.
He looks back at the glass dragon, frozen in place.
RICHARD
I, uh… don't know how to turn it back.
CALE
You should have thought of that before applying real physics to a fantasy creature!
GFL Archives
Original: LFG Page 58
First Grouping For Looks: GFL 001
Previous Grouping For Looks: GFL 057