GFL – Page 0057
Grouping For Looks is a page-by-page retelling of the Looking For Group saga through the lens of a mirror universe where Cale is a goateed tyrant and Richard is a holy soul trying to set him on a good path.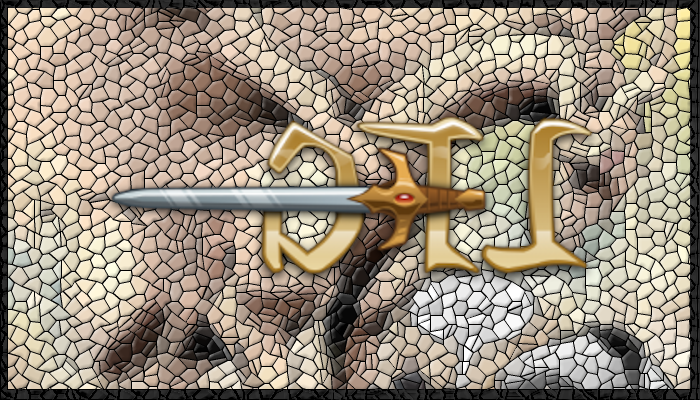 EXT. THE DESERTS OF KETHENECIA – DAY
Benny, Krunch, Richard, Cale, and Sooba walk in line between sand dunes, improvised cowls protecting them from the sand blast of a heavy wind.
KRUNCH
According to the map, we're here.
Richard looks at Cale, his swords sheathed. He looks back at Krunch, empty hoofed.
RICHARD
What map?
BENNY
GPS.
Benny swings her staff, the glowing red gem at its tip stopping just shy of Richard's startled face. The gem displays a topographical view of the continent, with a tiny flashing blip of light at the center.
BENNY
My Global Positioning Stone.
Weakened by the wordplay, Cale leans against a sand bank.
The sand parts suddenly. An auburn stone the size of Cale's head shifts, and rises.
CALE
Eye!
KRUNCH
What?
CALE
Eye! Eye!
BENNY
Eye-yi-yi-yi-yi!
Cale scowls at his half-breed ally, who playfully blows a raspberry at him. Then gags, as the sand pouring off the back of the towering beige dragon coats her exposed tongue.
CALE
You deserved that.
BENNY
Eye *cough* did *cough cough*
Even though her pun was more visual than audible, Cale knows what Benny did. He does not appreciate it.
GFL Archives
Original: LFG Page 57
First Grouping For Looks: GFL 001
Previous Grouping For Looks: GFL 056