GFL – Page 0041
Grouping For Looks is a page-by-page retelling of the Looking For Group saga through the lens of a mirror universe where Cale is a goateed tyrant and Richard is a holy soul trying to set him on a good path.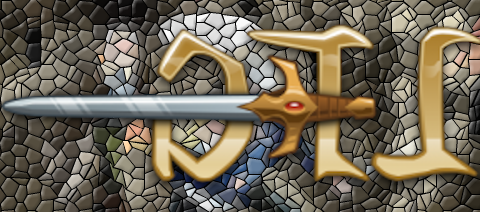 INT. CASTLE IN THE PAST – DUNGEON – DAY
Tavor, Cale, and the child, Leena, walk through a dungeon catacomb. There are bones everywhere. The skulls are too big to fig in elven heads, so they're probably sculptures. Still, someone decided to decorate these underground tunnels with wall to wall bone motifs.
VULLII (off screen)
We are honourbound to inform you: you have entered our ambush.
TAVOR
Cale they're behind us!
Tavor tries to slip behind Cale, but (this universe's) Cale's no fool. Cale blocks his fleeing ally. A dozen incoming Vullii arrows pepper Tavor's back.
Cale cradles Tavor's wounded body, shielding himself from further arrows.
TAVOR
You'll pay for *gasp* not falling for my betrayal.
CALE
Yes, I'm sure you'll survive this to one day exact your revenge.
VULLII
Get the girl!
CALE
Oh, right, the girl.
Cale looks around for Leena. Tavor, the life quickly leaving him, drops his swords.
CALE
Sweet, free swords.
Cale picks up Tavor's dropped blades.
TAVOR
You are… the worst… brother…
Blue and white energy sparkles and ripples around Cale, pulling the elf and his sweet new swords into a vortex.
INT. CASTLE – COURT – NIGHT
Cale lands face first into present day dirt. He looks up and is met with the disapproving glares of Benny, Krunch, and Richard.
CALE
Miss me?
GFL Archives
Original: LFG Page 41
First Grouping For Looks: GFL 001
Previous Grouping For Looks: GFL 040