GFL – Page 0040
Grouping For Looks is a page-by-page retelling of the Looking For Group saga through the lens of a mirror universe where Cale is a goateed tyrant and Richard is a holy soul trying to set him on a good path.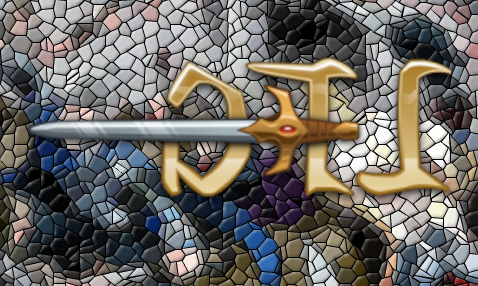 INT. CASTLE IN THE PAST – COURT – DAY
Vullii raiders overrun the castle of the elves. Tavor, Cale, and the King hold their ground against overwhelming odds
VULLII
We didn't want this. We wanted to talk!
KING
You didn't tell me that.
VULLII
We've been telling you that this entire time!
KING
I wasn't finished. "You didn't tell me that you could actually take the castle." Who uses diplomacy when force will work?
An elven child peaks out from a staircase, looking exactly like the Mystery Child from Cale's present except corporeal.
CHILD
Father?
KING
Leena?
VULLII
Careful not to hit the child!
The King embraces his daughter. It's his daughter, right? Like, in human terms, the King looks old enough to be her great grandfather, and these are elves. They live to be a billion.
Oh, duh, of course it's his daughter. She calls him "father." OK, the King embraces his daughter, lifts her up, and shields himself with her tiny body. 
KING
Yes, you'd hate to harm an innocent child.
CALE
He is everything I have ever aspired to be.
A Vullii pikeman strikes to avoid the Child, impaling the King on a halberd.
TAVOR
Your parents must be proud.
Tavor scoops up the Child (Leena, not Baby Yoda, he's not in this comic… yet!) and runs towards a stairwell.
TAVOR
I will bathe my blades in blood and avenge my king in Kethenecia.
Tavor totally winks at the reader.
TAVOR
To the catacombs!
GFL Archives
Original: LFG Page 40
First Grouping For Looks: GFL 001
Previous Grouping For Looks: GFL 039