GFL – Page 0016
Grouping For Looks is a page-by-page retelling of the Looking For Group saga through the lens of a mirror universe where Cale is a goateed tyrant and Richard is a holy soul trying to set him on a good path.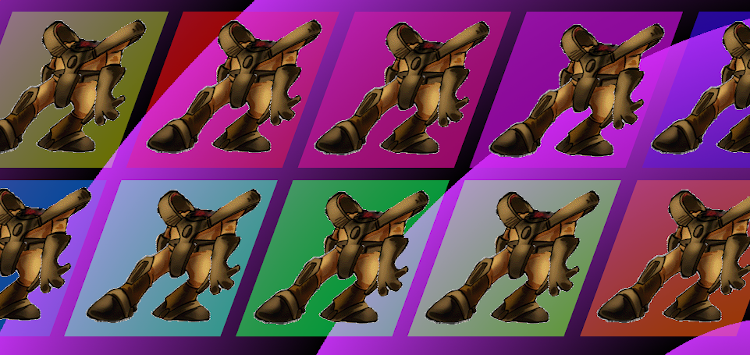 INT. MOUNTAIN – DAY
Krunch stands atop Benny's back, one hoof on each of her shoulder pads, maneuvering her ponytail like a yoke. Though this universe's Krunch is only a foot tall, that is one foot of dense muscles, like one of The Rock's feet. Benny struggles to hold up his weight.
KRUNCH
No Gid, when I pull down, you stand up. 
BENNY
Yes sir. 
Benny winces and grits her tusks until she convinces her body that this isn't pain, at least not pain she can't handle.
Richard watches the whole ordeal with a sympathetic frown. He matches Benny's laboured stride.
RICHARD
Need a hand?
Benny scowls at him.
KRUNCH
Answer his question. Do you need help with yet another one of your responsibilities, Gid?
BENNY
No sir. 
RICHARD
Why does he call you that?
BENNY
Krunch practically raised me and used to introduce me as his green kid. Over the years it got shortened to gid. 
RICHARD
Oh, a term of endearment? 
BENNY
No. What's the opposite of endearment?
KRUNCH
Resentment. 
Benny winces again, the load she bears convincing her body that this is pain. But Krunch won't have it. He pulls back on the yoke, standing her up again. And driving Richard to intervene.
RICHARD
Listen now, Krunch. I may already be on a nigh impossible quest of redemption-
Cale snickers.
CALE
"Nigh"
RICHARD
But hear me now: When that quest concludes -however it concludes- you are the next quarry for my hunt for moral uprightedness in the name of a better world!
GNOME SENTRY (Off Panel)
Intruders!
The group is startled by the sudden appearance of an armoured gnome (a rude one, it could be said) blocking their path.
GNOME SENTRY
You may not pass.
Krunch leaps from Benny's back to the gnome's, digging hooves into the startled sentry's brass shoulder pads and wrapping his arms around his neck. 
GNOME SENTRY
Wait, what are you-
Krunch tights his grip and stands upright. Vertebrae pop, pop, pop as they separate until-
SHRIIIIIIP
Richard stares aghast as the gnome sentry's severed head flies into his hands.
KRUNCH
This is my surprised face.
Krunch hops back onto Benny, who buckles under the sudden weight.
KRUNCH
What more do I need to do to teach you the value of standing straight?
Cale grumpily steps from the shadows and sheaths his swords. He kicks the beheaded gnome as he passes.
GFL Archives
Original: LFG Page 16
First Grouping For Looks: GFL 001
Previous Grouping For Looks: GFL 015