GFL – Page 0011
Grouping For Looks is a page-by-page retelling of the Looking For Group saga through the lens of a mirror universe where Cale is a goateed tyrant and Richard is a holy soul trying to set him on a good path.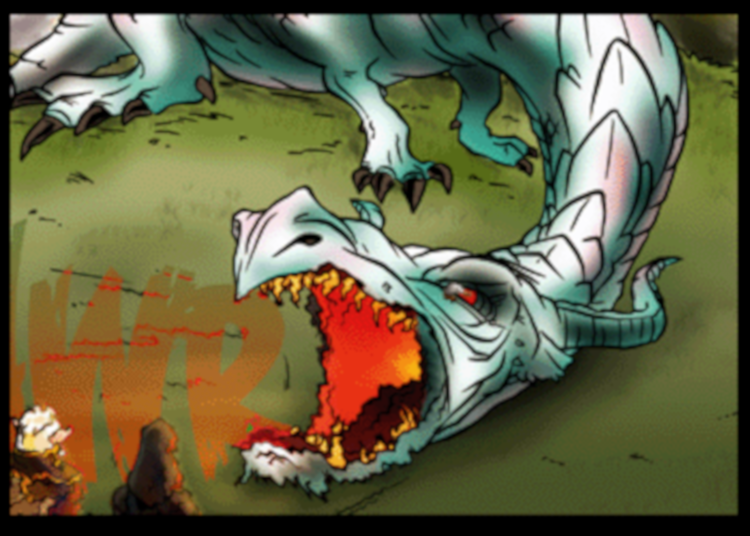 EXT. FOREST – DAY
Darkness may engulf Richard, physically, but spiritually he remains enlightened.
RICHARD
This day has taken many an odd turn along the way, but this might be the oddest.
Cale, pinned under the dragon's massive paw along with Richard and Sooba, seethes at his undead companion.
CALE
Can you curse her first born from here or not?
Richard squints at Cale.
RICHARD
What, in the short but complicated time we've known each other, would make you think, even if I could, that I would say "I sure can curse the innocent children of our adversaries at any range"?
CALE
I'm not asking you to harm innocent children, I'm just asking if you can.
RICHARD
And if I could?
CALE
Then I would know if threatening her first born was just a bluff.
RICHARD
And if I could curse her child but she does not respond to your threat?
CALE
…Priestess? I have a question for you.
Benny's focus is on the sky. Whatever she's looking at, she likes it.
CALE
Stop smiling!
BENNY
I recognize that shadow.
Cale and Richard look up and see a massive, muscular shadow casting over the dragon. Oh how the tables have turned, eh dragon!
Cale squints, scanning the bright sky for the source of the shadow. He sees only vast blueness, the sun, mountains in the distance. And a spot! A small black spot grows as the shadow shrinks. And shrinks. And shrinks. And
*plink*
A tiny minotaur, knee-high to a gnome, lands square on the dragon's head. The scaly beast raises an eyebrow, distracted by the light poke.
As the dragon looks around, the tiny minotaur dives into her eye, shattering the cornea and digging into her pupil as she roars in pain and swats at her face ineffectively.
Cale, Richard, and Sooba take in the scene as they get to their feet.
RICHARD
I have to say, Cale: You might not be the least redeemable person I know anymore.
GFL Archives
Original: LFG Page 11
First Grouping For Looks: GFL 001
Previous Grouping For Looks: GFL 010