GFL – Page 0010
Grouping For Looks is a page-by-page retelling of the Looking For Group saga through the lens of a mirror universe where Cale is a goateed tyrant and Richard is a holy soul trying to set him on a good path.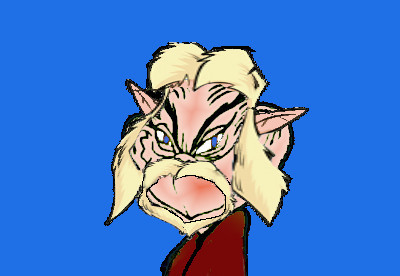 EXT. FOREST – DAY
Whoa, an exterior shot? I've gotten so used to just leaving int. tavern – day at the top of every post, I forgot this wasn't a World of Warcraft / Cheers mash-up.
Cale grips two halves of a broken branch, one in each hand, as he scowls into the forest.
Richard, Benny, and Sooba recover on logs in a clearing behind him.
CALE
We've lost them!
The angry elf turns his sneer towards his allies. They are mostly indifferent to his anger. Unsatisfied, Cale lifts Richard by the collar. Benny tips her head towards the action.
CALE
Once again you have denied me the blood of my enemies!
RICHARD
Well…
Richard petitions Benny with his eyes. She smirks.
BENNY
It's all yours, Redeemer.
Richard sighs.
RICHARD
Aelloon, that armoured miscreant who escaped us, is better known as Commander Temmet Aelloon of the King's Legion.
Cale releases Richard, lost in thought and muttering to himself.
CALE
…the King's Legion.
Cale perks up.
CALE
But they didn't look like defenders of the realm.
BENNY
Is that a big deal?
Probably not.
Cale's lips curl into a grin.
CALE
They will send reinforcements.
His grin spreads across his cheeks, wider than his eyebrows. Yes, his eyebrows.
CALE
Hundreds of innocent soldiers just doing their duty.
RICHARD
This is why I was helping you track Aelloon.
Cale whips out a sword and pulls Richard uncomfortably close. Massive, jagged blackness overshadows them.
CALE
They won't stop until we've killed them all!
RICHARD
Oh, I see. I missed that these are good things to you.
With a thump and a roar, a dragon as big as the tavern they just left lands. A pair of Legion archers ride in a war harness on its back.
BENNY
That's a Legion Dragon!
Cale hugs Richard cheek-to-cheek, giving him all the personal space of spandex pants.
CALE
I'm really, really happy.
GFL Archives
Original: LFG Page 10
First Grouping For Looks: GFL 001
Previous Grouping For Looks: GFL 009