GFL – Page 0009
Grouping For Looks is a page-by-page retelling of the Looking For Group saga through the lens of a mirror universe where Cale is a goateed tyrant and Richard is a holy soul trying to set him on a good path.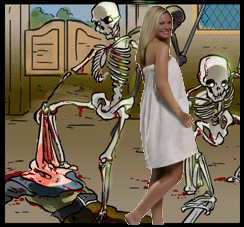 INT. TAVERN – DAY
Cale picks up Richard, who is being mauled by Sooba. The evil elf shakes the wide-eyed mauler and maulee.
CALE
Sooba! No!
Sooba tear through Richard's parchment-like skin until she hits the floor with green stained claws.
CALE
Attack the annoying creatures. The nuisances.
Cale looks up from his disciplining to find he and all of his associates have swords within striking distance of their throats. Aelloon stands behind his circle of warriors, fist balled in triumph.
AELLOON
Surrender and we can negotiate your deaths.
Cale twirls the mustache of his goatee. He leans back and whispers out of the side of his mouth in the direction of Benny and Richard's ears.
CALE
Where do we stand?
RICHARD
Still.
BENNY
Still?
CALE
Still?
RICHARD
Still.
Richard pushes the flat of one of the merc's blades. The merc spins in place like the battlefield is a chess board and every space is a Lazy Susan.
RICHARD
A magical stand still, if you will.
Aelloon looks from merc to merc. They are frozen in place. Aelloon scowls like his balls were fisted in triumph.
Smirking, Cale draws his swords and slashes up and down in a circle.
The mercs grimace but still don't move. Until, they do.  Flesh halves slip off bones, dropping to the floor like a seductress fresh from a shower dropping a meat towel. All that remains of the mercenaries are their bloody skeletons staunchly holding swords.
Cale gestures to the skeletons.
CALE
If you weren't sure, you can drop your spell.
Richard holds his hand to his mouth, possibly vomiting in his mask.
GFL Archives
Original: LFG Page 09
First Grouping For Looks: GFL 001
Previous Grouping For Looks: GFL 008