GFL – Page 0007
Grouping For Looks is a page-by-page retelling of the Looking For Group saga through the lens of a mirror universe where Cale is a goateed tyrant and Richard is a holy soul trying to set him on a good path.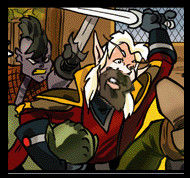 INT. TAVERN – DAY
Aelloon and his band of not-necessarily-human mercenaries approach Benny, Richard, and the bag of Cale, swords drawn.
BENNY
Bring it on, Aelloon!
Richard pulls the dagger out of his chest and offers it to Benny.
RICHARD
Would this be of any help? I'm not using it.
BENNY
Not when I'm holding in this bag the remnants of a mighty warrior who has pledged his life to protecting mine.
RICHARD
I must have missed that…
Richard tosses the dagger over his shoulder. Benny pours the Cale dust through her few, girthy fingers. The room fills with magic, as though Benny had written runes in the air with slightly different coloured air.
The dust swirls up, thickens like wet sand. The runes stretch and form a mould for the thick dust, like beach toys. Finally, he takes shape, like a sand castle, but it's Cale instead of a castle.
As the magic and dust solidifies, Cale's first reborn action is to throw one of his swords, taking the life of a merc when Aelloon ducks.
Cale turns and points at Benny, as though the sword he threw was still in hand. If this were true (or his miming were more convincing), his sword would be through Benny's face.
BENNY
Eep!
CALE
I made no pledge to protect. Not you. Not anyone.
RICHARD
Yet!
Aelloon stalks up to Benny.
AELLOON
Enough of this.
Aelloon's swing is intercepted by Cale's off-hand swing.
AELLOON
Interesting.
CALE
Leave them to me!
Cale draws his sword from the dead merc's chest and thrusts it through another merc's heart.
Benny rubs her chin pensively.
BENNY
He's not clear on the concept of "protection", is he?
RICHARD
Shhhh, he's learning.
GFL Archives
First Grouping For Looks: GFL 001
Previous Grouping For Looks: GFL 006