GFL – Page 0004
Grouping For Looks is a page-by-page retelling of the Looking For Group saga through the lens of a mirror universe where Cale is a goateed tyrant and Richard is a holy soul trying to set him on a good path.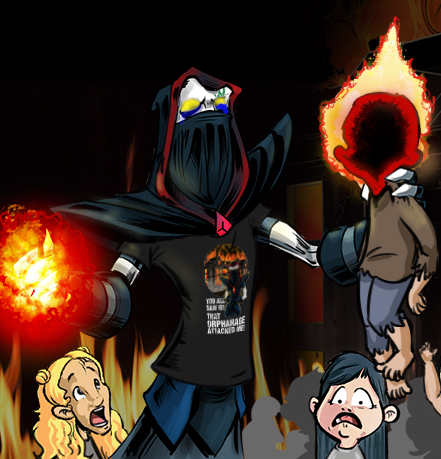 EXT. ROAD TO NESTOREP (no spitting) – DAY
Cale, not at all disintegrated, carries himself like someone who thinks he has been. By that, I mean that Richard carries him, fetally positioned and swaddled in his cloak, tied to the end of a stick. Assuming this hobo was played by Christopher Llyod and he's carrying the corpse of Dennis The Menace.
CALE
How dare you disintegrate me?
RICHARD
How indeed.
CALE
When I recorporate-
RICHARD
Quiet, or we won't get past the guard and we'll never find a healer.
Despite not thinking he has a face, Cale scowls. As they approach two confused dwarfs, Richard raises one finger. Its tip ignites. With a small flame like the ink of a quill, he offhandedly spells out a message of fiery golden letters in the air.
"He's enchanted and thinks he's a bag of disintegrated elf."
The dwarfs nod.
DWARF #1
HALT!
RICHARD
Hello officer.
The scene catches the attention of a line of young children wearing clothes so disheveled you couldn't sell the lot to a generous merchant for more than a shilling.
DWARF #2
What is your business in Nestorep?
RICHARD
I'm but a weary traveler passing through.
Richard continues to write.
"He's evil, but I think with the right influence he could be redee-"
A rock scatters the message, hitting Richard in the face.
RICHARD
Wha?
DWARF  #2
Get behind us, sir!
RICHARD
That orphanage is attacking me!
DWARF #1
I saw!
DWARF #2
We all saw!
Richard cowers behind the dwarfs as the orphans throw sticks, stones, and whatever they can find that they think could break bones.
One stick passes through the remaining flaming letters, catching fire before settling in Cale's cape. A tiny spark turns into a roaring fire, engulfing the elf.
CALE
Ahhh!!!!
Dwarf #2 charges forward, only to be immediately set upon and overwhelmed by orphans. And yet their barrage continues.
RICHARD
I hate to do this, but if I don't stop them…
DWARF #1
Do what you must, good sir, in the name of self defense.
As tears well in Richard's eyes, he conjures a ball of fire in his palm.
Moments later, Cale is a pile of ash Richard and the soot covered dwarf scoop into a handkerchief. The orphans and the other dwarf are nowhere to be seen.
DWARF #1
Welcome to Nestorep. Enjoy your stay.
INT. TAVERN – DAY
Richard and the bag of ash that is somehow a still-alive Cale, walk into a bar.
CALE
Where are we going?
RICHARD
To the tavern. We need healing.
A mob of thugs surround Benn'Joon, some kind of green-skinned humanoid. The only thing clear about these thugs is that they are definitely not human, a detail that surely won't be an issue later.
RICHARD
That woman needs help…
CALE
I need help! I am in so much pain.
RICHARD
I should do something.
CALE
Why? She looks like she started it.
RICHARD
And how can you see anything?
TH'END
GFL Archives
Original: LFG Page 04
First Grouping For Looks: GFL 001
Previous Grouping For Looks: GFL 003
SPEAKING OF ORPHANAGES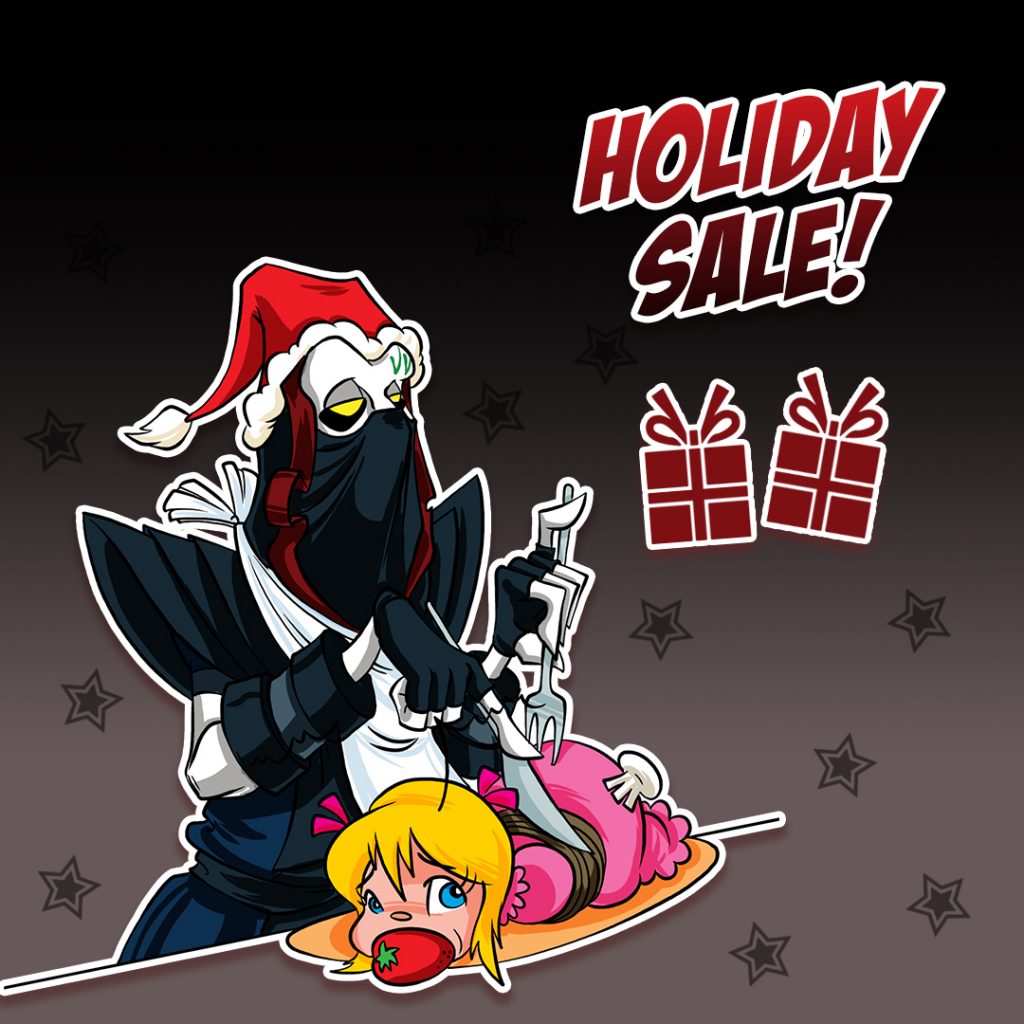 LFG merch is so on sale in the Blind Ferret Shop! Including, but not limited to, the award winning Looking For Group tabletop game Orphans & Ashes, and its expansion More Phun.
Not only do these two games recreate the drama and moral ambiguity of what to do when an orphanage casts fire, they include over 100 plastic miniatures of orphans, fire, and our heroes Cale, Richard, Benny, and Sooba. If you play D&D or Pathfinder, $30 for the pair is well worth it for the miniatures alone, but as the person who designed the game and has played it more than anyone else, it's pretty great too.