Top Comments – Pages 1705 – 1706
Tuesday, YOU are the star! We curate our favourites from the previous week's comments on lfg.co and Facebook and remind you how clever you are. Here are your top comments for Looking For Group pages 1705- 1706.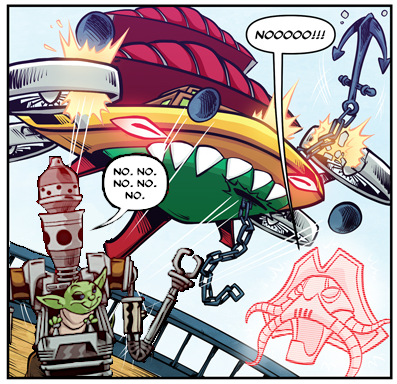 LFG.co
He's not venting, he's playing…
Yes, I believe there's a difference.
Katherine Delain
Ank 'er? Tim hardly know 'er.
Saeomon
I can see the anchor in your eyes…
Russell Levine
The red-bearded pirate cried, "Boguuuuuuuuuuus!" as he plummeted to his doom.
Saeomon
Facebook
Maybe they shouldn't have sent in the guys with the Jordi LaForge visors
Robert J North
WHEIGH ANCHOR or in Tim's case, WHEE ANCHOR!
Derk Lakwijk
Tim like that one guy who stole Tom Hanks' boat: "Look at me. I'm the anchor now."
Jay T Wilkey
*sings to the tune of Drunken Sailor* How to get rid of annoying sky pirates, how to get rid of annoying sky pirates, how to get rid of annoying sky pirates, just call on big Tim-O!
Jennifer Pisch
LFG.co
… It's a cat video, isn't it…
Alaric Shapli
Cale got spammed… 😀
God of Puns
Skronch is the black sheep of the Bloodrage clan, in both the literal and figurative senses.
Saeomon
Jeez, there are little green screaming children *everywhere*!
Russell Levine
Facebook
The celebrity cameo is Krunch's better known uncle, Skronch.
Jay T Wilkey
*insert the 'you've got mail' voice here*
Jennifer Pisch
I have one thing to say, beyond this. *clears throat* CHAOS!!
David Camp