Off The Shelf – Turtle Power
I'm a sucker for a few things: Action figures. Translucent plastic. Nostalgia. A good deal. An intriguing mystery. A full collection. I could go on. Like, I could really go on. I… I might be a real sucker. I'll reflect on that in the future. For now, we're talking Teenage Mutant Ninja Turtles Mega Bloks!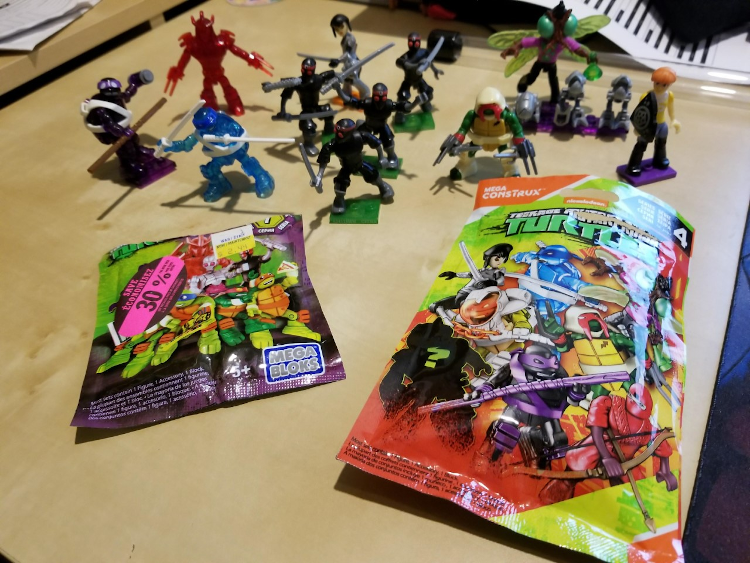 In 2014, Mega Blox released their version of minifigs and construction sets based on the TMNT license. This was only a few years after Lego released their own TMNT line, and there was very little time between that license ending and Mega Blox's figures hitting the shelves. 
Me and TMNT
I'm rightly known as a GI Joe guy, and I've more than dabbled in Transformers, both of which (along with Masters of the Universe) were lines I collected and brands I followed in the 80s. However, as the 90s approached and all three of my go-to brands of the 80s were limping along after financially disastrous movies, a new brand of toy got my attention: Eastman and Laird's Teenage Mutant Ninja Turtles. 
I can't even remember the name of the long closed department store where I first stumbled across the heroes in a half-shell in 1988. I do remember that they were not even on pegs but tossed into wire bins on the bottom shelf.
I was hypnotized by the combination of familiar and strange. I would have picked up Michaelangelo if I could find him as he was the only renaissance painter of the four I recognized, but settled on Raphael instead, probably because his art was on all of the original packaging in Canada.
I tried to stay on top of any and everything Ninja Turtles related from then on. The animated miniseries. The Archie comics. The video games (yes, I've beat the underwater bomb defusing level in the original NES gameThe Unauthorized Teenage Mutant Ninja Turtles Quiz Book. The movie. It went from "these are neat" to "these are everywhere" at a rate I can't remember being repeated.
So why don't I talk about Ninja Turtles like I talks about GI Joe? Well, when I revisited GI Joe when I got older, I found everything I remembered liking and more. When I revisited Ninja Turtles, I found less. Or at least different. Where the animated series felt cool when I first watched it, it felt kitchy the second time around. Worse, the action figures were clunky, and the details that once appealed to me now just seemed weird. The original Shredder might be the worst action figure I ever owned. I still appreciated the Archie comics and movie, and the universe as a whole, and I checked out the new series as they released, but the disappointment in revisiting what got me into Ninja Turtles initially made getting invested in it again harder. 
Mega Blox Ninja Turtles
So if the spark had dwindled, why do I have MegaBlox TMNT figures on my shelf?
I'm cheap, and so were they. I came across a display of blind bags at my local grocery store, 30% off the reduced price of $2.44. For $1.75, I was willing to give these a try.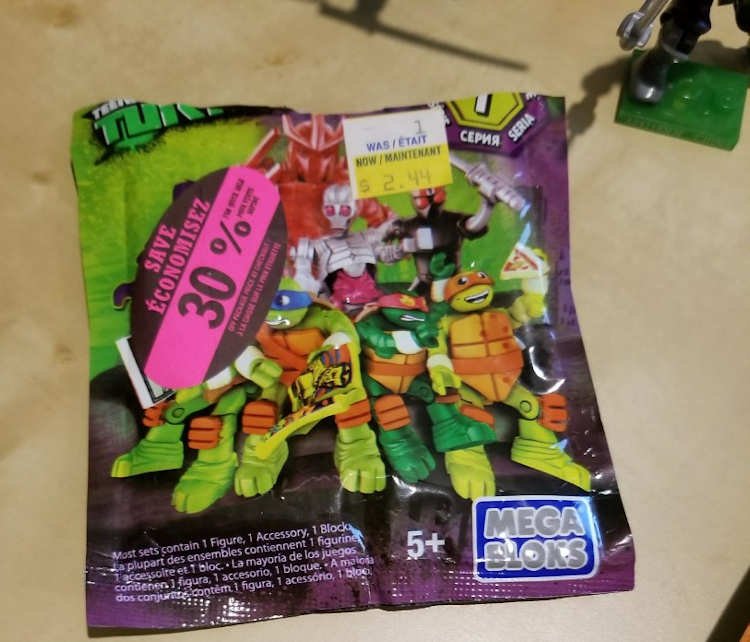 My first experience with Mega Blox figures was extremely positive. The amount of poseability packed into these 2" toys, with knee joints and ball joints at the hips and shoulders. The faces are full of personality, which is important when your main characters are the same class, species, and age. The colours pop without dipping into the pretty obnoxious neon shades the line became known for (and again important when that's one of the only cues as to which character is which). This may be the least popular opinion I have, but I vastly prefer these to Lego Minifigs, especially compared to the TMNT figures. The Mega Blox figures emphasize the ninja whereas the Lego minifigs emphasize the turtle. 
Every time I hit the grocery store, I got another blind bag. When the later series sets started showing up at Dollarama, I started getting those. And when I started getting doubles, I researched how to figure out the contents of the bag without opening it (there are character-specific numbers imprinted on the bags). This allowed me to grab some of the chase figures and army build Foot Soldiers and Mousers. I would have felt bad about denying a kid the chance at the army builders under normal circumstances, but since these were being liquidated and there always seemed to be the same number of packages as what I'd last left, I felt confident the kids in my area had already passed on these.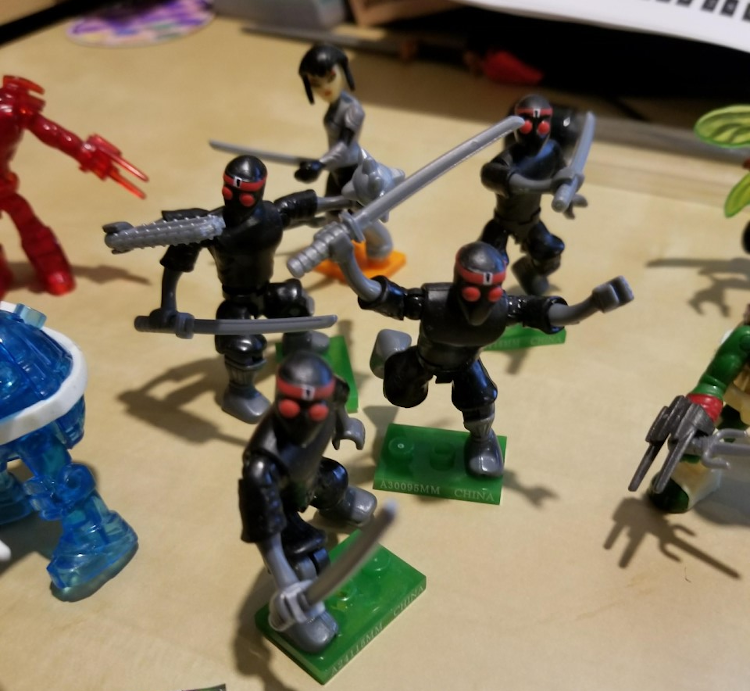 The original Ninja Turtles line somehow survived for over a decade by rereleasing gradually weirder versions of the four Turtles, first with jobs like surfer or astronaut, then as athletes, and somehow landing on mash-ups with franchises like Trolls and Star Trek.
We do get an astronaut Mikey in this set, but the variations are more clever and less drastic. First, the main turtles got new accessories and slight colour variations. Like Raph here whose wave 1 figure had fire eyes and an angry expression, but a later set had cheery eyes and his pet Spike. I'm surprised the turtles weren't all saddled with a strange colour application or B-side version while their classic looks were reserved for the expensive sets.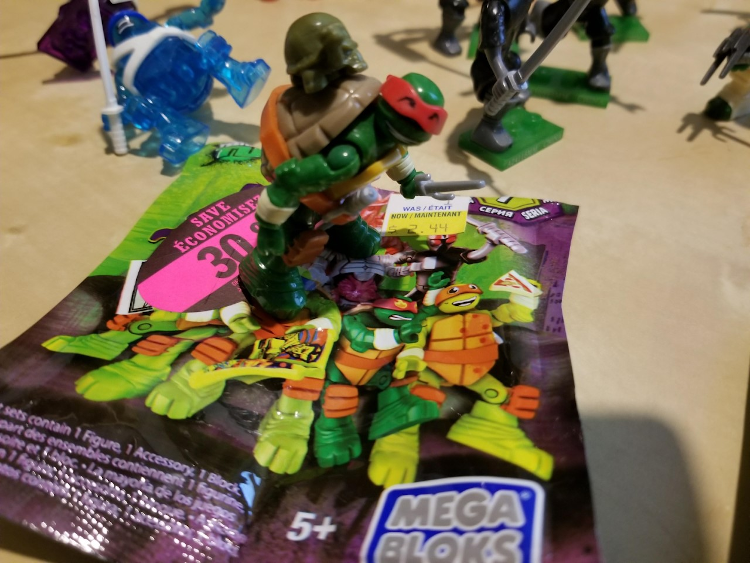 The other variations are artistic and intriguing: all black turtles with all of their accessories in their signature colour, or translucent plastic in their signature colour and white accessories (although my purple Don has a wood colour bo, which I wish was white).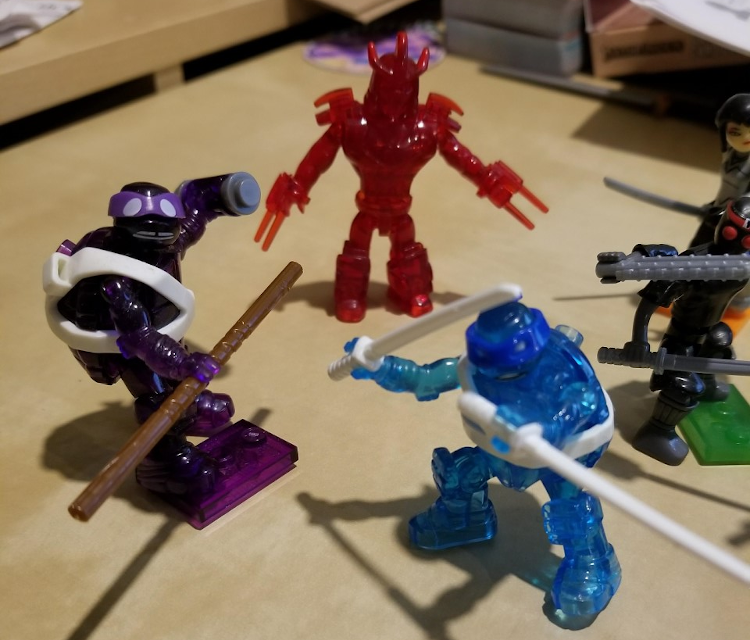 I only got a couple of the translucent Turtles and none of the black ones before I moved on from these sets, but revisiting my Mega Blox TMNT figures makes me want to at least track down translucent Mikey and Raph. I also want to track down the giant Krang set they put out, but it's going for over $100 on the secondary market. That makes it the second time I could have gotten a Krang robot body in all his giant robot baby glory and I passed only to regret it. 
On Another Note
This being quarantine season, I'm working from home. As is my wife. And our kids are home from daycare. Because "work from home" and "kids are home" are mutually exclusive, I am working 6am to 3pm and she is working 3pm into the night, so the kids each have a parent and each parents gets a work day. While writing this blog, I was worried my wife might walk in and I'd have to explain why I was playing with toys when I was supposed to be writing.