GFL – Page 0082
Grouping For Looks is a page-by-page retelling of the Looking For Group saga through the lens of a mirror universe where Cale is a goateed tyrant and Richard is a holy soul trying to set him on a good path.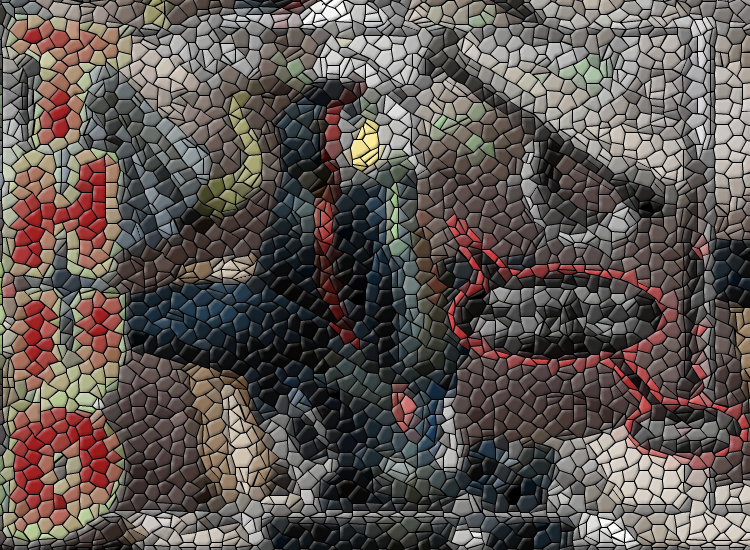 INT. THE CITY BENEATH THE CITY – THE PAST
A cascade of red, orange, yellow, and purple flowers covers the battlefield and everyone on it.
The perturbed soldiers contemplate the outpouring of magical energy they just witnessed, then balk at how Richard wasted it on such a superficial display. 
Cale, Benny, Krunch, and Pella prepare to counterattack. But then Richard steps forward, amazed at everything he just did.
Richard stares at an especially vibrant rose.
RICHARD
♫ I just made something unexpected ♫
The soldiers charge. Vines wrap around their legs and drag them off screaming. 
Richard gently caresses the rose's thorns.
RICHARD
♫ Something sharp, something new ♫
An ax-wielding warrior gets within striking distance of Richard. A tree stepsa up and locks him in a full nelson, leaving Richard to inspect the rose's petals. 
RICHARD
♫ It's not symmetrical or perfect ♫
Richard smiles.
RICHARD
♫ But it's beautiful and it's mine ♫
Soldiers swing they swords like scythes, chopping away at the combat zone flower garden. 
RICHARD
♫ What else can I do? ♫
Raising his hands, Richard conjures an eruption of roses, engulfing the soldiers.
Benny, and Krunch sit at a table, brought to you by Sonic Gas Station.
KRUNCH
Unexpected, but it worked.
BENNY
You get all the style points.
Richard smiles.
RICHARD
All without killing a single person!
*twang*
Everyone looks at Cale, bow drawn, standing on a pile of corpses.
CALE
What? I get Advantage against flatfooted targets.
GFL Archives
Original: LFG Page 82
First Grouping For Looks: GFL 001
Previous Grouping For Looks: GFL 081