GFL – Page 0076
Grouping For Looks is a page-by-page retelling of the Looking For Group saga through the lens of a mirror universe where Cale is a goateed tyrant and Richard is a holy soul trying to set him on a good path.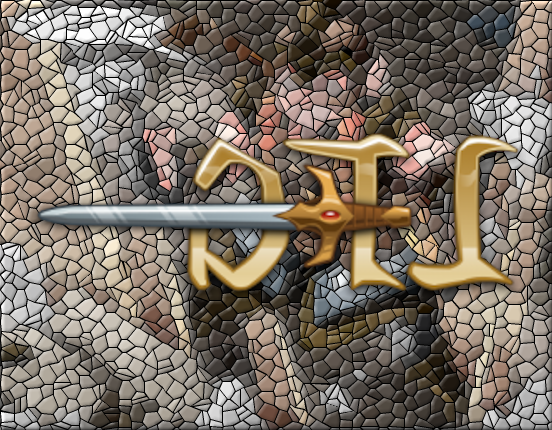 Ah, oversized page, we meet again. Too long to fit on a single page when collected in print, too short to take up two pages. Funny enough, the last longlegged page introduced Krunch, following his one panel cameo on the previous page. I wonder if page 76 shares similar historic significance.
EXT. KETHENECIA – THE PAST – DAY
A Kethenecian Cavalier kneels before General Breem. Blood spatters cover the dwarven General's pearly armor.
CAVALIER
I failed my General, my city, and the future.
BREEM
You are not forgiven.
Breem drops his axe, beheading the cavalier. The head rolls over to the foot of a couple of soldiers, who dissociatively stuffs it in a blood bag filled with dozens of other heads.
Breem contemplates the blood on his axe.
BREEM
Still not over it. Next!
The next Kethenecian in a line of a hundred takes a knee before his red stained officer.
INT. SHACK IN TOWN BORDERING KETHENECIA – THE PAST – DAY
Cale's crossed swords close in on Tavor's neck like unsuspecting paper.
CLACK
Like a rock, Benny's staff blocked Cale's scissoring blades.
CALE
Aw, c'mon.
BENNY
Sush, I was listening to that.
Tavor, eyes glowing green like the Archmage's emeralds embedded into his forehead, points at the door to the shack.
Through the door, a voice echoes a familiar song.
PELLA (off panel)
All you people can't you see, can't you see?
Cale and Benny exchange confused glances.
PELLA (off panel)
How your love's affecting our reality?
Cale and Benny quickly break eye contact.
PELLA (off panel)
Every time we're down
You can make it right.
WHAM
The door bursts into splinters. Pella, an absolutely jacked bard with an axe in each hand, a chakram at her hip (the Xena disk. Does… does that clarify anything? People remember Xena, right?), and a lutte slug on her back, stands with the rictus of a psychopath. 
PELLA
And that makes you larger than life
GFL Archives
Original: LFG Page 76
First Grouping For Looks: GFL 001
Previous Grouping For Looks: GFL 075