GFL – Page 0075
Grouping For Looks is a page-by-page retelling of the Looking For Group saga through the lens of a mirror universe where Cale is a goateed tyrant and Richard is a holy soul trying to set him on a good path.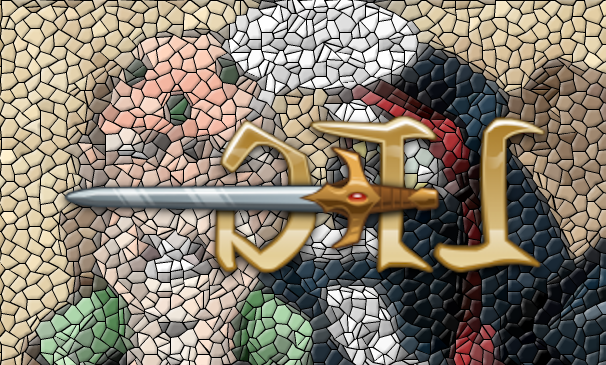 INT. SHACK IN TOWN BORDERING KETHENECIA – THE PAST – DAY
Slumped over on the ground, Tavor wallows in defeat as the others gather their gear. Richard sits next to him and pats the sad elf's knee.
TAVOR
Richard the redeemer? You've come to comfort me?
RICHARD
Yes tavor. There there. There there.
TAVOR
I sacrificed so much, travelled to the future and back inside the blades of my swords-
Still not over that, BTW.
TAVOR
Only for my darkest speculations to be true. We were abandoned.
Richard nods. Tears swell in Tavor's eyes. He hangs his head.
RICHARD
There there.
TAVOR
The sun rises.
RICHARD
Come again?
Tavor's head snaps up. His eye and the archmage emeralds glow again.
TAVOR
The griffins call.
The day has come.
Kethenecia must fall.
Richard squints.
RICHARD
There's something familiar about this.
Cale saunters over, his swords drawn.
RICHARD
Cale?
CALE
Guess he doesn't remember what I do to prophecy ramblers with emeralds in their- WHAT IS THAT?
Richard turns and looks at the shack's back wall.
RICHARD
What? Where?
CALE
There! There!
Cale crosses his swords around Tavor's neck, ready to scissor his fellow elf to death.
Not… not that kind of scissoring. But what a way to go!
GFL Archives
Original: LFG Page 75
First Grouping For Looks: GFL 001
Previous Grouping For Looks: GFL 074