GFL – Page 0071
Grouping For Looks is a page-by-page retelling of the Looking For Group saga through the lens of a mirror universe where Cale is a goateed tyrant and Richard is a holy soul trying to set him on a good path.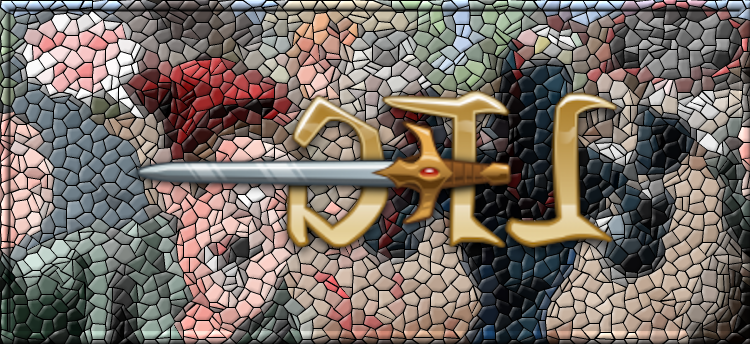 INT. SHACK IN TOWN BORDERING KETHENECIA – THE PAST – DAY
Cale, Benny, Krunch, and Tavor hide in a shadowy shack. The goateed elf peaks out of a separation in the slats of wood trying to pass for a wall.
CALE
No sign of the dwarf.
BENNY
Was killing the old mage a wise move?
CALE
He's a wizard, Benny. Wizards are nothing but trouble.
TAVOR
Speaking of spell casters, have you just written off your redeemer? Hiding from General Breem means hiding from your undead aly.
CALE
He'll be fine.
Cut to:
EXT. TOWN BORDERING KETHENECIA – THE PAST – SAME
A mob, angrily wielding torches and pitchforks (classic mob) surrounds Richard. He's doing his best to diplomacize the people. But, again, they're an angry mob. Diplomacy attempts suffer disadvantage, if not autofail.
ANGRY PEASANT
Go back to whatever hell spawned you, monster!
RICHARD
I assure you, being undead wasn't my choice. But being a redeemer was. Would you sooner judge a man for his circumstances than his actions?
The Angry Peasant stands between Richard and two arrow-riddled young men bleeding out on the ground. He points at the young men.
ANGRY PEASANT
Stay away from my sons!
RICHARD
I'm simply trying to help them.
ANGRY PEASANT
My sons won't join your zombie horde.
RICHARD
Again, you are prejudging me, based on who you think I am and not anything I've done.
Another young man, wielding a torch, sneaks up on Richard.
YOUNG PEASANT
Die vile creature!
The Young Peasant charges at Richard, torch aloft. Richard spins around to face his assailant. He accidentally elbows the young peasant in the face, sending the boy reeling.
The Young Peasant trips on one of the injured young men's feet. He lands between them, his torch landing square on his chest. He bursts into flames. As he screams, the terrified injured young men try to scootch away. Their injuries slow them down, and they burst into flames too.
Within seconds, a raging bonfire engulfs the three young men as the crowd watches, dumbfounded.
The Angry Peasant gasps.
ANGRY PEASANT
My sons!
RICHARD
Now let's talk about intent.
GFL Archives
Original: LFG Page 71
First Grouping For Looks: GFL 001
Previous Grouping For Looks: GFL 070