GFL – Page 0069
Grouping For Looks is a page-by-page retelling of the Looking For Group saga through the lens of a mirror universe where Cale is a goateed tyrant and Richard is a holy soul trying to set him on a good path.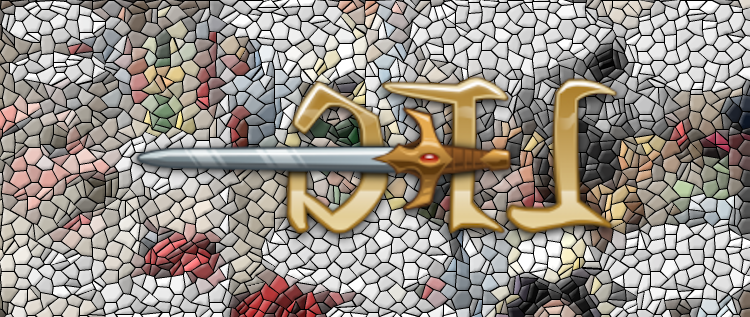 EXT. TOWN BORDERING KETHENECIA – THE PAST – DAY
A Kethenecia soldier leans doe-eyed into Krunch's personal space.
Krunch snaps. The soldier's neck. Krunch snaps the soldier's neck.
General Breem draws an axe that a non-dwarf might question why it faces upwards, but a dwarf knows what to do with it.
GENERAL BREEM
Et tu, cow? You kill one o' me soldiers, you call them all down upon you.
As Krunch prepares for the incoming attack, Benny panics, and Cale looks for an exit, a robed figure parts the army and calls out to the hostile General.
ARCHMAGE
Cease this at once.
General Breem sees the approaching Archmage. In a panic, he hoists himself onto Krunch. Breem catches the startled minitaur off guard, pinning him under his girth and armor before Krunch can hoof it out of the way.
GENERAL BREEM
Protect the Archmage!
ARCHMAGE
Calm yourself, old fr-
The Archmage's mouth locks. He peers down. An elven arrow juts out of his chest, piercing his heart.
Benny shakes her head. She follows the trajectory of the arrow and sees Cale in sniping position on a nearby building.
CALE
Anyone that blowhard thinks needs protecting is destined to be trouble for us.
The Archmage slumps to the floor.
CALE
Nipped that one in the-
Every soldier in Breem's army draws their bow and an arrow.
CALE
-butt.
GENERAL BREEM
Butt, boy? It's bud!
CALE
I'm not you bud, pal.
Benny pinches the bridge of her nose. The Archmage's blood pools around her foot.
GFL Archives
Original: LFG Page 69
First Grouping For Looks: GFL 001
Previous Grouping For Looks: GFL 068