GFL – Page 0067
Grouping For Looks is a page-by-page retelling of the Looking For Group saga through the lens of a mirror universe where Cale is a goateed tyrant and Richard is a holy soul trying to set him on a good path.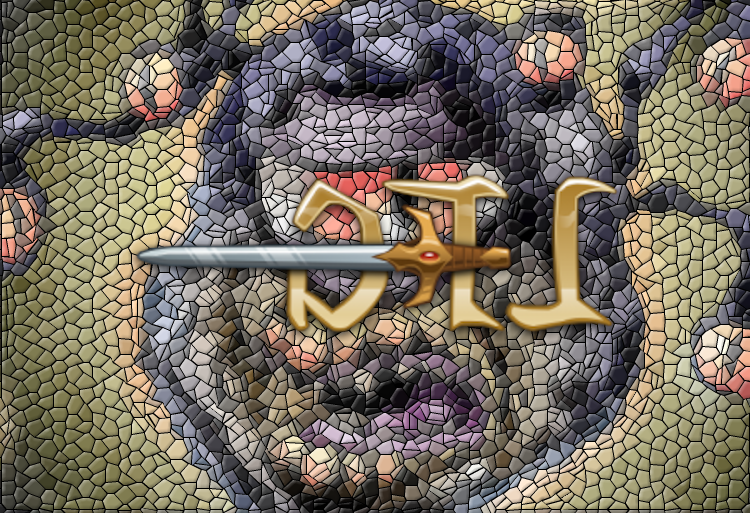 INT. (EXT?) THE GATEWAY REALM – DAY
It is incredibly dark, the only light coming off Richard's crumple body sparking with blue energy. The group squints to take in their bearing.
CALE
Where are we?
Disembodied words with distinct word bubbles to indicate otherworldly power answer him.
KEEPER OF THE WAY
Nowhere. Everywhere. There, in-between.
BENNY
That's helpful, thank you.
KEEPER OF THE WAY
Thus it was written, thus do I see.
CALE
Who are you?
KEEPER OF THE WAY
Keeper of the Way. Tasked with ensuring that continuity is preserved.
A purple testacular ball with a gaping mouth, one huge central eye and a dozen smaller eyes at the tip of tentacles.
KEEPER OF THE WAY
Only those pro-
The Keeper's eyes all bulge open as a giant red rubber ball is shoved into his mouth. As he turns to see what gagged him, he's bagged in a burlap sack big enough to catch an cow.
Tavor, the Keeper's assailant, dusts his hands off. The now-tied bag shifts, the Keeper inside making muffled grunts with distinct word bubbles to indicate otherworldly power.
The group stares at Tavor.
TAVOR
I was in Kethenecia for a long time. You would not believe how extensive their library was, including a whole section on copyright law. Trust me, I just saved us a lot of hassle.
BENNY
Good talk.
The group moves through a white portal, exiting the Gateway Realm.
GFL Archives
Original: LFG Page 67
First Grouping For Looks: GFL 001
Previous Grouping For Looks: GFL 066