GFL – Page 0065
Grouping For Looks is a page-by-page retelling of the Looking For Group saga through the lens of a mirror universe where Cale is a goateed tyrant and Richard is a holy soul trying to set him on a good path.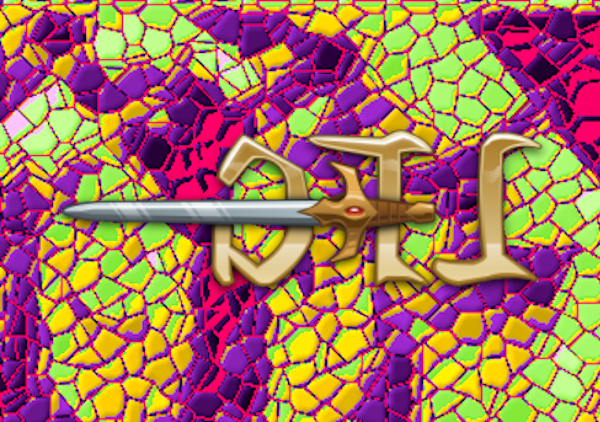 EXT. THE CITY OF KETHENECIA – ARCHWAY OF THE GOLDEN STATUE – DAY
Richard rubs his hands together, looking up at the arch in anticipation.
He wiggles his fingers and stretches his hands above his head as sparks of magic sparkle in his palms.
Slowly, his foot rises off Kethenecia's golden road and towards the archway.
KRUNCH
Wait!
Richard's toes curl back and he freezes on one foot.
Krunch stands on the table, pointing to an area of text.
KRUNCH
It says you need to make a funky entrance.
Wide eyed and at a loss, Richard stands with drooped shoulders but still one foot in the air. He stares at Krunch.
The minitaur shrugs and points at the ancient inscription with both hands.
RICHARD
If I've gotta make a move to a town that's right for me, I'll need to keep me groovin' with some energy.
With a snap of his fingers, Richard's colourizes his normally blue, black, and red wardrobe purple, yellow, and green.
With newfound resolve, Richard's foot move back towards the archway. Then stops.
RICHARD
Cale?
Cale cowers behind Benny, unbeknownst to her.
CALE
Oh, nothing. I'm sure that's a funky enough entrance.
Richard puts his foot down. Blobs of paint pulsating psychedelic colours swirl around the redeemer. The magical paint replaces his robes with bellbottom overalls, flared tie dye sleeves, big old sunglasses, and his gem on a Peace pendant.
RICHARD
Is this groovy enough for you squares?
Cale, Benny, Krunch, and Tavor stand speechless. They all flip him a thumb's up.
Richard adjusts his outfit and takes a step with his clear elevator boots.
Krunch whispers to Cale.
KRUNCH
It doesn't say anything about making a funky entrance.
The two try hard to stifle their giggles.
GFL Archives
Original: LFG Page 65
First Grouping For Looks: GFL 001
Previous Grouping For Looks: GFL 064