GFL – Page 0064
Grouping For Looks is a page-by-page retelling of the Looking For Group saga through the lens of a mirror universe where Cale is a goateed tyrant and Richard is a holy soul trying to set him on a good path.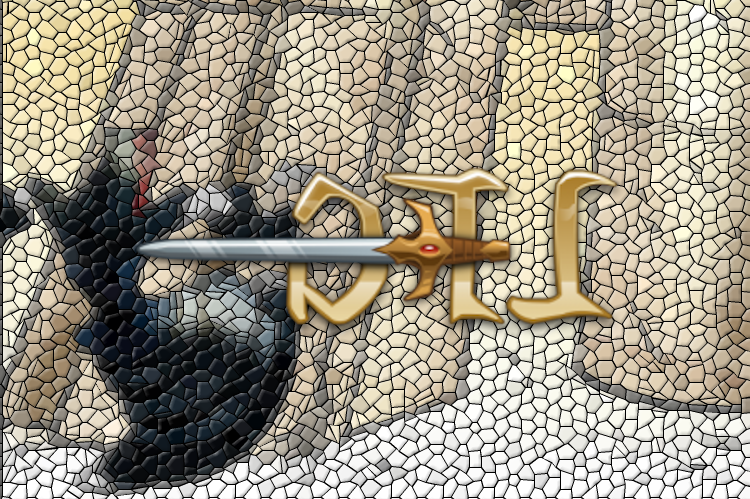 EXT. THE CITY OF KETHENECIA – ARCHWAY OF THE GOLDEN STATUE – DAY
Tavor stands before the Golden Statue, glaring at Cale as the blonde elf approaches with swords drawn.
TAVOR
What are you doing?
CALE
I had my sword at your throat a minute ago. Nothing in my life has ever felt so right.
Tavor holds his sword up defensively.
TAVOR
But… the statue!
CALE
Could be fake. Or maybe you built it. You've been here long enough.
RICHARD
Which reminds me…
Krunch walks across an engraved stone tablet at the foot of the statue.
KRUNCH
There's some script on this archway.
RICHARD
I was about to get back to the topic of how Tavor is here and ali-
BENNY
What does it say, father?
KRUNCH
"Journey back to the future."
TAVOR
See? Maybe I could craft a statue, but could I create a portal?
RICHARD
I guess that depends on how you ever got-
CALE
No. You couldn't.
Cale lowers his sword, ignoring a frustrated Richard, who kicks the archway.
For a second, as the skin of Richard's toes touches the stone of the archway, a puff of blue smokey magic appears before the statue.
KRUNCH
It needs power.
TAVOR
And you have a power source.
All eyes turn to Richard. All eyes except Richard's. That would be weird. His eyes lock on Tavor.
RICHARD
I won't be your battery unless you tell me the truth.
TAVOR
Open this portal and I promise the truth will be revealed.
RICHARD
Thank you!
Richard turns towards the arch and cracks his knuckles.
Krunch hops on Benny's shoulder. She whispers to her adopted father.
BENNY
There's no way he's keeping that promise.
KRUNCH
At this point, I want to see how long Tavor can go without telling Richard how he's alive.
GFL Archives
Original: LFG Page 64
First Grouping For Looks: GFL 001
Previous Grouping For Looks: GFL 063