GFL – Page 0061
Grouping For Looks is a page-by-page retelling of the Looking For Group saga through the lens of a mirror universe where Cale is a goateed tyrant and Richard is a holy soul trying to set him on a good path.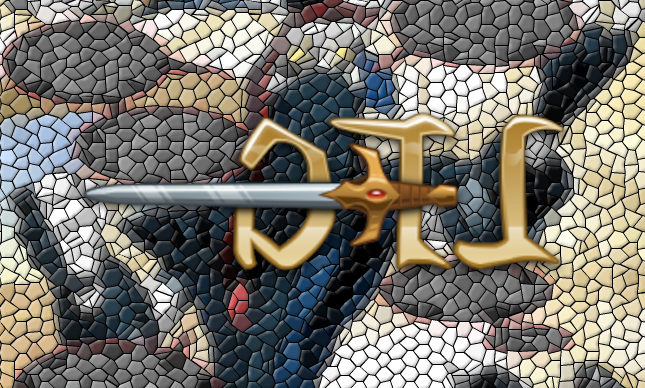 INT. THE CITY OF KETHENECIA – DAY
Cale turns to face the mysterious speaker with a familiar voice. And by "face him" I mean in mortal combat, drawing his swords and lunging.
CALE
Tavor!
Tavor, with a silver streak in his grey hair that absolutely works for him, anticipated Cale's reaction. He parries his strike with his own drawn swords.
CALE
How? Why?
The pair of elves lean into one another, teeth gritted.
TAVOR
I swore that you would pay for not falling for my betrayal.
CALE
Yes, with your dying breath. Or was even that a lie?
Krunch hops onto Cale's shoulder, getting a closer look at Tavor.
KRUNCH
Some oaths transcend all, elf.
Richard perks up.
RICHARD
Are you… undead?
Tavor, still leaning with his swords against Cale's, casts Richard a sideways glance.
RICHARD
Well?
TAVOR
That would be spoiling it.
RICHARD
Oh no, you don't drop a bombshell like "I mysteriously showed up when I should be dead in at least two different ways, and have no business being on this continent either way," and get a pass. Are you undead?
TAVOR
I'm not.
CALE
And how are you here?
RICHARD
Actually, I had follow up q-
TAVOR
You could say… destiny.
Cale relaxes his posture, keeping his swords up defensively.
CALE
How do you mean?
RICHARD
Before we get to that, can I ask my-
TAVOR
Let me show you.
Cale's wide eyes follow Tavor's gaze to a corner of the city. Whatever Tavor's looking at is blocked by a wall. And their swords, which are still interlocked.
TAVOR
As soon as you lower your swords.
CALE
So… I don't see this ending any time soon.
Both elves remain locked in battle, each man's swords their only defense against a deadly strike from the other. Clearly, this is in spite of themselves.
GFL Archives
Original: LFG Page 62
First Grouping For Looks: GFL 001
Previous Grouping For Looks: GFL 061