GFL – Page 0048
Grouping For Looks is a page-by-page retelling of the Looking For Group saga through the lens of a mirror universe where Cale is a goateed tyrant and Richard is a holy soul trying to set him on a good path.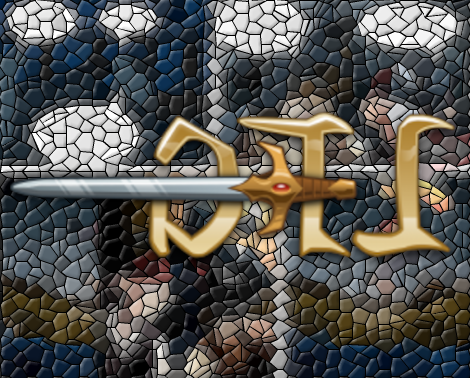 EXT. THE RIDD OCEAN – THE FATHER'S BONES – NIGHT
Under cover of darkness, a pair of pirates (a pairote, if you will) skulk across the main deck. The two pirates (or tworotes, if you will), one human, one some kind of cat folk, hover over sleeping Krunch's tiny, tied up self.
HUMAN PIRATE
Do you have it?
CAT PIRATE
Khajiit has wares, if you have coin.
HUMAN PIRATE
It's wrapped around the cow's belt.
A fire sparks behind them, revealing Richard's clawed fingers and glowing green eyes.
RICHARD
What is wrapped around the cow's belt?
HUMAN PIRATE
You'll never find out!
The panicked pirate (piranic, if you will) dives off the boat into the Ridd Ocean.
The cat pirate falls to his knees.
CAT PIRATE
Khajiit stole nothing!
The door to the Captain's Cabin (the Cabtin, if you will) swings open and Tah'Vraay storms out.
TAH'VRAAY
What's this?
RICHARD
I don't know. The human pirate-
TAH'VRAAY
His name is Piranic.
RICHARD
Oh. Apologies. Piranic jumped to his death. And…
Richard indicates the cat pirate.
RICHARD
And… We haven't been introduced. 
TAH'VRAAY
He never told us his name. He just speaks in Skyrim references. 
CAT PIRATE
Khajiit is innocent of this crime!
RICHARD
He's not talking.
TAH'VRAAY
Except for Skyrim references.
RICHARD
Except for Skyrim references.
TAH'VRAAY
It's what he does.
Cale wanders on deck, shirtless because why not? He points starboard*.
CALE
Legion hoes.
TAH'VRAAY
All hands to battle stations!
She turns to Richard.
TAH'VRAAY
We'll have to find out more about this theft later.
Richard looks at you, the loyal reader.
RICHARD
Or, we'll never find out about this theft. Ever.
*You might be thinking he points port. That would be true if this wasn't a mirror universe!
GFL Archives
Original: LFG Page 48
First Grouping For Looks: GFL 001
Previous Grouping For Looks: GFL 047