GFL – Page 0045
Grouping For Looks is a page-by-page retelling of the Looking For Group saga through the lens of a mirror universe where Cale is a goateed tyrant and Richard is a holy soul trying to set him on a good path.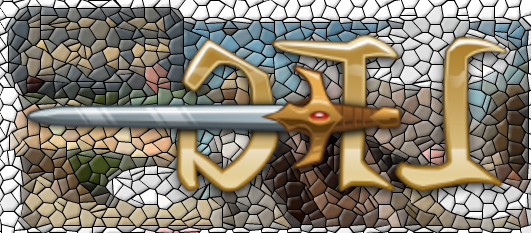 EXT. THE ROAD TO THE PORT OF TYNE – DAY
Atop a sand dune on a desert mountain, a group of hot young heroes -a scruffy-looking, fast talking pilot (not that one), an excitable man with a rebellious edge who does not look short for a Storm Trooper, and a scrappy woman in clothes that look simultaneously stylish and like she ran through a clothesline and got wrapped up in a whites load- stand together, ready to make their mark on popular culture.
Richard shoves them into nearby quicksand.
BENNY
That's not like you.
RICHARD
Oh no, it's fine. It ends up sinking in quicksand was where they needed to go next. 
EXT. THE PORT OF TYNE MARKET – DAY
Cale walks through the market, staring at his bloody swords. Krunch, riding the hump of a camel, scowls at him.
KRUNCH
It's a cross oceanic journey, Elf. What do you hope to learn staring at that map?
Shoppers avert their eyes and hustle away as Cale passes them.
CALE
Me, nothing. But I hope these peasants learn their place.
A shop owner closes his curtains at the first sign of Cale. An organist stops playing and closes cover after cover, then holds onto his hat as he leaves.
BENNY
Cross oceanic, eh? And I'm sure you've eliminated all zeppelin and griffin options.
KRUNCH
I will not be shamed for my love of boating.
BENNY
Yes, you're really into seamen…ship.
Richard ponders the implications of Benny's timely pause, right up until he falls flat on his face.
Looking back, he sees the trio from earlier emerging from the sand. As they gasp for air, the woman holds up a knife shaped navigation tool.
Richard looks at the knife octant, then at Cale's bloody map swords.
RICHARD
Benny! I have an idea! Compass clubs!
BENNY
Mm-hm.
RICHARD
Sextant bombs!
BENNY
Yep.
RICHARD
GPS grenades!
BENNY
Definitely paying attention to you.
GFL Archives
Original: LFG Page 45
First Grouping For Looks: GFL 001
Previous Grouping For Looks: GFL 044