GFL – Page 0044
Grouping For Looks is a page-by-page retelling of the Looking For Group saga through the lens of a mirror universe where Cale is a goateed tyrant and Richard is a holy soul trying to set him on a good path.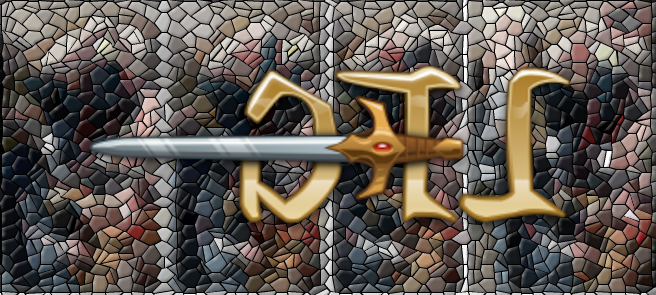 INT. CASTLE IN THE PRESENT – COURTYARD – DAY
Cale drags the tips of his swords across the ground. His sword marks form a 9×9 grid. Benny shakes her head.
BENNY
Again?
The grounds of the courtyard are covered from wall-to-wall with sudoku grids.
CALE
Ghost girl said "[I] heard all [I] needed to hear, but you did not understand." I thought about it and failed to remember anything significant. Now I'm not thinking about it and seeing if that works.
The path of Cale's swords crosses over blood stained sand. His swords pulse with light. Lines form the silhouettes of islands in a sea of blood.
CALE
It's the map!
BENNY
I can't believe you deux as backinaed into the solution of a prophecy.
CALE
"Prophecy." Whatever. All we need to know is that bathing my blades in blood will get us to Kethenecia.
Cale looks over at Richard, using his depillaging shovel to cover the last Vullii grave.
CALE
Hm. It might have to be Vullii blood, specifically.
Richard stands up, dusts himself off, and realizes Cale is all up in his personal bubble. With a bucket.
RICHARD
Cale?
CALE
Could I ask you a favour?
RICHARD
Yes?
CALE
Could you dig up the Vullii so I can fill this bucket with their blood?
Richard looks at the bucket in Cale's hand. Looks at the row of fresh graves. Looks back at the bucket. Looks Cale right in the eyes.
RICHARD
*sigh* Yes.
GFL Archives
Original: LFG Page 44
First Grouping For Looks: GFL 001
Previous Grouping For Looks: GFL 043