GFL – Page 0043
Grouping For Looks is a page-by-page retelling of the Looking For Group saga through the lens of a mirror universe where Cale is a goateed tyrant and Richard is a holy soul trying to set him on a good path.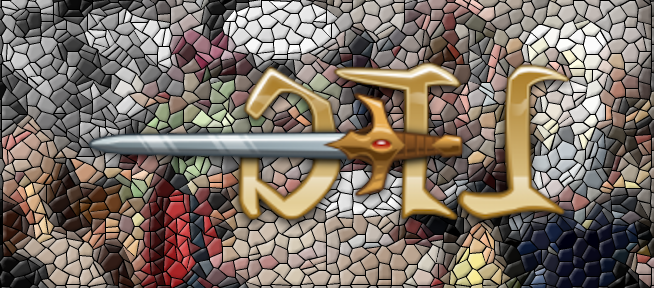 INT. CASTLE IN THE PRESENT – COURTYARD – DAY
Dead bodies litter the courtyard, their blood tagging the wall like the neighbour hood Jackson Pollock lived in during his rebellious teen years.
Richard kneels in a deflated heep, carrots in hand.
RICHARD
P-ponies?
Cale walks past the heartbroken redeemer.
CALE
Leena!
BENNY
What are you yelling about?
CALE
The ghost. The one who doesn't shriek. Her name is Leena. I met her in the past when she was alive.
The mystery child materializes.
LEENA
I have nothing to say to you.
CALE
I think you do. Starting with where we can find Kethenethia.
Krunch hops on Benny's shoulder, stroking his beard.
KRUNCH
What does she have to do with Kethenecia?
CALE
Tavor was taking her to Kethenecia.
BENNY
Tavor?
CALE
Sure, now you're all "tell me about your adventure in the past."
LEENA
You were not the one destined for the trip to the past.
CALE
And..?
LEENA
And you heard all you needed to hear, but you did not understand. To you, life is meaningless and blood inconsequential.
She looks over at Richard, who is counting the Vullii bodies to make sure he's dug enough graves. 
Cale raises an eyebrow.
CALE
Richard!
RICHARD
Just a secon- and I've lost count.
CALE
Do you know where Kethenecia is?
RICHARD
I don't even know where it's not.
GFL Archives
Original: LFG Page 43
First Grouping For Looks: GFL 001
Previous Grouping For Looks: GFL 042