GFL – Page 0039
Grouping For Looks is a page-by-page retelling of the Looking For Group saga through the lens of a mirror universe where Cale is a goateed tyrant and Richard is a holy soul trying to set him on a good path.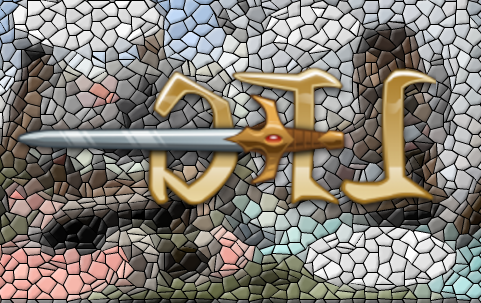 EXT. CASTLE IN THE PAST – DAY
Piles of Vullii corpses litter the perimeter of the castle, while hundreds more, armed for a siege, emerge from the forest.
TAVOR (O.S.)
For five days these insistent rebels have thrown themselves at our walls, and for five days we've downed them with our arrows.
INT. CASTLE IN THE PAST – RAMPART – SAME
Cale and Tavor fire on the Vullii below in near unison.
TAVOR
And through it all, you haven't stopped smiling.
CALE
It feels so good to kill without complaints from my allies.
TAVOR
Complaints? I was going to compliment you on your form.
A one-eyed archer, CENTA, gazes at an alien butterfly the size of his face, it's eyes pulsing with a hypnotic rhythm.
CALE
What's wrong with him?
TAVOR
Centa? He's drunk, or bloodlusting. Maybe all of the death he's delt is weighing on his conscience. Ignore him.
Tavor lets loose an arrow.
EXT. CASTLE IN THE PAST – SAME
Tavor's arrow cuts the rope supporting a giant steel battering ram in the shape of a fist. The remaining support snaps. The battering ram slips from the frame and to the ground. It fists dozens of approaching Vullii to death as it rolls downhill.
INT. CASTLE IN THE PAST – RAMPART – SAME
Cale takes in the massacre, dumbfound. He turns to Tavor.
CALE
That counts as one!
Meanwhile, Centa follows his mystical butterfly down the stairs and to the front gate.
INT. CASTLE IN THE PAST – COURT – SAME
Two exhausted elves guard the drawbridge wheel. Centa knocks two arrows.
GUARD 2
What are you doing?
GUARD 1
I was going to say that!
As the guards exchange chummy smiles, Centa fires. An arrow embeds the back of Guard 1's neck, the arrowhead piercing out of his throat. The other arrow misses.
Guard 2 gasps.
GUARD 2
Guard 1?
Guard 1 collapses onto the drawbridge wheel. His weight dislodges the brake. The wheel spins, slapping Guard 1 to the ground and cutting through him like a rotary saw.
GUARD 2
Nooo! What am I without Guard 1?
The drawbridge slams open. Vullii storm the castle, stabbing Guard 2 en passant.
INT. CASTLE IN THE PAST – RAMPART – SAME
Horror fills the King's eyes as he watches his country fill with Vullii.
KING
Tavor! Tavor's friend! Save me!
TAVOR
And they say chivalry is dead.
CALE
Well, judging by the fire in the stables, I'd say the horses are.
The elves escourt the King away from the battle.
GFL Archives
Original: LFG Page 39
First Grouping For Looks: GFL 001Previous Grouping For Looks: GFL 038