GFL – Page 0038
Grouping For Looks is a page-by-page retelling of the Looking For Group saga through the lens of a mirror universe where Cale is a goateed tyrant and Richard is a holy soul trying to set him on a good path.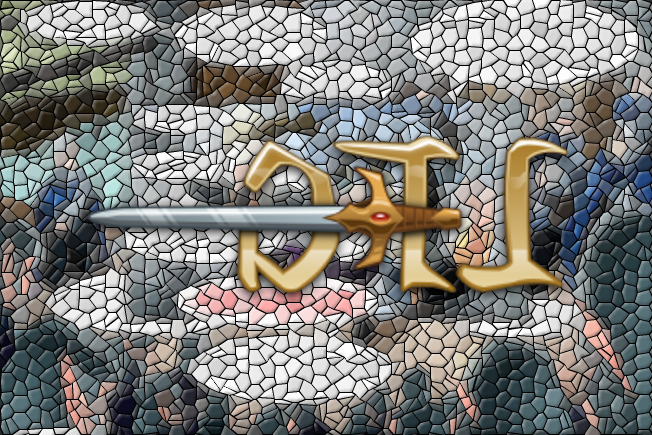 INT. CASTLE IN THE PAST – RAMPART – DAY
The King stands on his castle wall. Tavor and Cale have his back. Elven archers flank him on either side and more kneel before him. All bows are set on the Vullii representative outside the castle walls.
KING
You have until the count of five.
VULLII
Sire, we just wish to talk.
KING
Fine. Tavor, fetch me my lectern for diplomatic measures. 
Tavor gestures for Cale to follow him before heading down the stairway to the courtyard.
INT. CASTLE IN THE PAST – COURT – DAY
CALE
Ugh, diplomacy. No wonder this castle is abandoned in the future.
TAVOR
What's that, brother?
CALE
Spoiler alert, diplomacy with the Vullii is futile.
Tavor uses an enchanted key to open a magic lock on the King's weapon locker.
TAVOR
You don't say.
He hands a confused Cale a packed quiver. The arrows within glow with a toxic green aura.
TAVOR
Here, you bring him his diplomatic measures. 
Tavor pulls out a bow that looks to have been crafted from devil horns. Cracks in its black and red shaft glow with orange light.
TAVOR (con't)
I'll bring him his lectern.
CALE
Wait, so he's not using diplomacy. He's using-
TAVOR
Violence, yes. Nice to see you can almost keep up.
CALE
Then how does he lose? Are the Vulii that strong?
TAVOR
Vullii.
CALE
Hm?
TAVOR
It's Vullii. With two Ls.
INT. CASTLE IN THE PAST – DUNGEON – DAY
Meanwhile, beneath the castle grounds, Richard hangs by his arms alone in a cell.
RICHARD
Hello?
Hellooooooooo?
Yeah, I'm going to be here for a while.
GFL Archives
Original: LFG Page 38
First Grouping For Looks: GFL 001
Previous Grouping For Looks: GFL 037