GFL – Page 0037
Grouping For Looks is a page-by-page retelling of the Looking For Group saga through the lens of a mirror universe where Cale is a goateed tyrant and Richard is a holy soul trying to set him on a good path.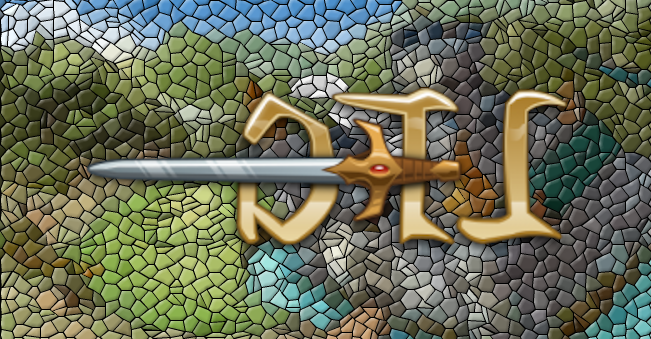 INT. CASTLE IN THE PAST – COURT – DAY
Elven soldiers in matching, dashing armour march about the courtyard. Richard hides in a haystack, watching them. The castle around him is familiar, resembling the one he just left in his present, but pristine. It ends up Richard isn't watching the elves directly, but rather their reflection on the polished stone walls.
The KING speaks with a high ranking soldier named TAVOR. Seems like a nice guy.
KING
Kethenecia stopped supplying the Vulii and now those forest folk want Gamlon resources as handouts. 
TAVOR
The resources we've collected as taxes?
KING
Precisely. They want to steal back what they owe us for letting them live on our land.
TAVOR
How do you intend to deal with the Vulii, sire?
KING
Ignore them. Let them forage for whatever the tree dwellers need to survive.
TAVOR
I meant the Vulii marching on the castle, Sire.
KING
What?!
The King races for the nearest staircase. As Tavor turns to follow him, a black glove taps him on the shoulder.
Richard scowls. He knows that glove.
CALE
Excuse me.
TAVOR
Yes stranger?
CALE
Two things. One, did I hear you say something about Kethenecia? And two-
Cale points that glove Richard knows at his haystack hiding place.
CALE
Are you aware of the undead creature hiding in your castle?
Tavor stares at the haystack in shock and dismay, then draws his swords and springs into action.
RICHARD
Worst. Ally. Ever.
GFL Archives
Original: LFG Page 37
First Grouping For Looks: GFL 001
Previous Grouping For Looks: GFL 036