GFL – Page 0036
Grouping For Looks is a page-by-page retelling of the Looking For Group saga through the lens of a mirror universe where Cale is a goateed tyrant and Richard is a holy soul trying to set him on a good path.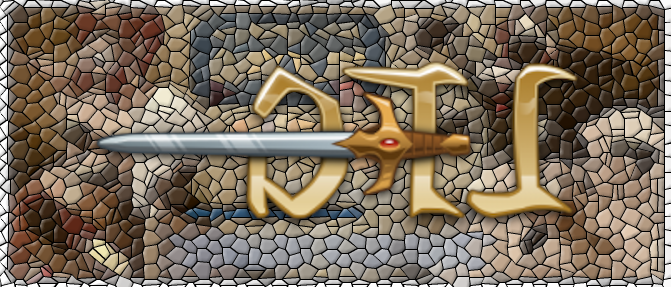 INT. CASTLE – COURT – NIGHT
The Mystery Child soothes the now silent Shriek. Krunch looks up at the little girl. Meanwhile, Richard dusts himself off past him, and Benny casts a healing spell on Cale's bleeding ears. 
KRUNCH
If she can't talk, how will she tell us the location of Kethenecia?
MYSTERY CHILD
She can direct your path, but first you must understand the past.
CALE
Ah. More riddles.
Cale sits down, a sword in one hand, his sharpening stone in the other.
MYSTERY CHILD
We can take you there.
The Mystery Child and The Shriek touch hands. A blue portal swirls into existence between them.
Cale stows his sharpening stone and stands up.
CALE
Now we're talking.
BENNY
Your sword's sharp enough for an adventure, but not for an execution?
MYSTERY CHILD
Not you.
Cale scowls. His fingers flirt with his sharpening stone pouch. 
MYSTERY CHILD
You have all done murder with anger in your heart.
She points at Richard.
MYSTERY CHILD
Only he may come.
RICHARD
I will not fail you, my friends.
With that, Richard bows and enters the portal. After a blinding flash of blue light, it closes behind him.
Krunch and Benny shuffle their feet considering what to do. When-
RICHARD (off panel)
Hello?
KRUNCH
It's coming from underground.
BENNY
The dungeon?
INT. CASTLE – DUNGEON – NIGHT
Benny, Krunch, The Shriek, and The Mystery Child descend the staircase, finding Richard in a cell, wrapped tight in chairs from his nose to his toes.
KRUNCH
What?
RICHARD
Ends up the past? Not a fan of the undead. That was the worst revelation on my trip to the past.
BENNY
Cale, either pick this lock or find a key.
Benny looks around.
BENNY
Cale?
Cale is nowhere to be found.
RICHARD
And that was the second worst revelation on my trip to the past.
The Mystery Child gasps.
GFL Archives
Original: LFG Page 36
First Grouping For Looks: GFL 001
Previous Grouping For Looks: GFL 035