GFL – Page 0035
Grouping For Looks is a page-by-page retelling of the Looking For Group saga through the lens of a mirror universe where Cale is a goateed tyrant and Richard is a holy soul trying to set him on a good path.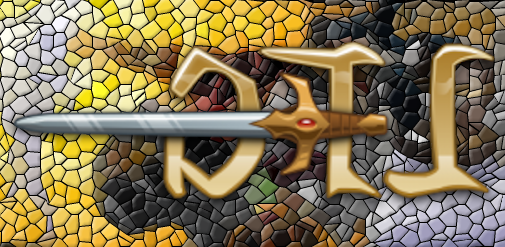 INT. CASTLE – COURT – NIGHT
Led Zeppelin's Immigrant Song plays as Cale crashes through a solid stone wall, propelled by a sonic wave.
Benny, Krunch in tow, rushes onto the scene.
CALE
I FOUND THE SHRIEK!
BENNY
*shhhh*
Cale clears his ear with his pinky. A strand of viscus goo dangles from his ear hole to his finger tip.
CALE
WHAT?!
Krunch hops down off of Benny's shoulder and runs for the well. He fishes up the bucket, then spins it overhead like Michelangelo spinning a grappling hook after nunchucks were deemed too violent for a Saturday morning cartoon. Krunch lets loose.
CLUNK
The bucket captures the ghost's head, utterly baffling her.
CALE
HOW DO I KILL HER?
Benny scowls at the shouting elf.
KRUNCH
You don't.
CALE
WHAT?
KRUNCH
"Only the Shriek, with a long memory, with a longing memory, possesses the knowledge of the location of Kethenacia."
Cale, Benny, and Krunch turn to face the ghost and she feels paws at the bucket.
KRUNCH
Ask her where Kethenecia is.
Benny and Krunch look to Cale expectantly.
CALE
WHAT?
KRUNCH
ASK HER-
A little elven girl heretofore unnoticed stands among them. She is of flesh and blood, but her skin glows with supernatural light. Richard, also heretofore unnoticed, stands among them too. But that's pretty normal. He probably came running when he heard all of the screaming. Way more normal than Mystery Child over there. 
MYSTERY CHILD
She won't answer.
KRUNCH
Why not?
MYSTERY CHILD
Uh, because she speaks in screams? Literally named "The Shriek"? And you want to have a conversation with her. 
RICHARD
I say we let her speak.
Richard removes the bucket from The Shriek's face. She immediately shrieks, knocking Richard across the courtyard.
RICHARD
Oh, that's why she had the bucket on her head. 
CALE
WHAT?
GFL Archives
Original: LFG Page 35
First Grouping For Looks: GFL 001
Previous Grouping For Looks: GFL 034