GFL – Page 0025
Grouping For Looks is a page-by-page retelling of the Looking For Group saga through the lens of a mirror universe where Cale is a goateed tyrant and Richard is a holy soul trying to set him on a good path.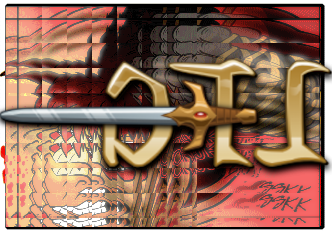 EXT. FOREST – DAY
Trolls Tim and Styx flank Cale, Krunch, and Fitch as they escourt them to their lord.
Despite being as tall as Cale when the elf is on his back, Krunch drags his unconscious ally.
STYX
Why we let them live?
TIM
They may be of use to us.
STYX
Tiny bull man,
TIM
Their destinies are out of our hands. Only Lord Stoll decides who lives and who dies.
Cale's eye crack open.
CALE (whispering)
The gnuh…
KRUNCH
Hm?
CALE (whispering)
The gnome…
KRUNCH
What about him?
CALE (whispering)
Betray the gnome.
Fitch, the gnome in question, turns to see if he heard Cale right. He stumbles backwards, wide-eyed, when Krunch leaps. But he watches with a raised bushy eyebrow when the minitaur's jump goes wide.
Krunch ricochets off of Styx, snatching the troll's spear. Riding it like a witch on a broom stick, Krunch drives the spear head, shaft, and rider through Fitch's chest.
Tim drops his jaw as a bloodsoaked Krunch emerges from the gnome's exit hole, and Fitch falls face first to the ground.
TIM
You killed him. With one clean stab through the chest, that gnome is dead.
STYX
Why you kill gnome?
Krunch shrugs.
Cale harnesses the energy to rise up to one knee.
CALE
We were tired of the lies.
The gnomes hired us to help them betray the trolls and break up the gnome/troll alliance.
TIM
Why?
CALE
They suspected you would do so first.
TIM
Interesting. I will pas on this turn of events to Lord Stoll.
Remain here.
KRUNCH
Nicely done, Pinky. I like it.
Fitch, meanwhile, does and says nothing. He is already dead.
GFL Archives
Original: LFG Page 25
First Grouping For Looks: GFL 001
Previous Grouping For Looks: GFL 024