GFL – Page 0019
Grouping For Looks is a page-by-page retelling of the Looking For Group saga through the lens of a mirror universe where Cale is a goateed tyrant and Richard is a holy soul trying to set him on a good path.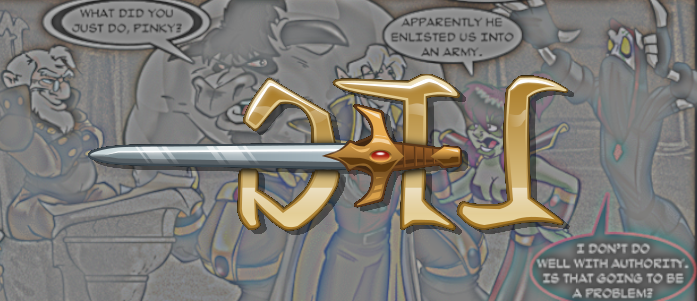 INT. MOUNTAIN – MECHASTONE – DAY
The group -mostly annoyed but uncharacteristically compliant- follows a gnome officer while flanked by gnome soldiers. Cale turns to Richard.
CALE
You know what would make you more interesting? A pet.
RICHARD
Are… are we chatting?
CALE
It's talk to you or the cleric, and I think I have a better chance of sleeping with her if I talk to you and ignore her.
RICHARD
Oh, are you attracted to Benn'Joon? I hadn't picked up on that.
Cale scowls at his redeememption tormentor.
CALE
Maybe I'll talk to Sooba…
RICHARD
Right, pets. I had a companion once. Alas, I taught Dneirf Doog everything I could. I miss him, but staying with me would have just held him back. 
CALE
If you gave him that name, I hate you a little more than before.
RICHARD
It isn't so much that I named him as he earned it.
CALE
And now even more. Somehow.
The gnome officer leads the group into a stone throne room. He stops, stands at attention, and addresses CHIEF ENGINEER TOYK, a much older gnome, equally but more ornately armoured.
OFFICER
Chief Engineer Toyk, these are the intruders.
TOYK
Bring them forth, Lt. Ridshort.
RICHARD
Chief Engineer, sir, we throw ourselves at your merc-
TOYK
Enough of that. There is no excuse for what you've done, and no forgiving it. Death is all you deserve.
Richard bows his head in compliance with the verdict. Krunch stomps his hooves and bellows. Benny cringes, because Krunch is on her shoulder. Cale grins.
Toyk raises an eyebrown at the elf's reaction.
TOYK
Does death mean something different to the wanderers?
CALE
On the contrary, it is the end of the perpetual torment we call life. A sentence can not be more severe than death. Therefore-
Cale charges at Toyk, kipping off the Chief Engineer's throne and backflipping over Lt. Ridshort. The elf garrotes the gnome with his bow string. When the gnome soldiers raise their spears, Cale yanks his bow up, launching Ridshort, blood gushing from his throat, chest-first into the spearheads.
CALE
-nothing I do makes matters worse.
TOYK
There's torture!
CALE
Don't mind if I do.
Cale draws his swords and slices off every gnome soldier fingertips.
RICHARD
There's internal damnation!
CALE
Meh.
As Richard gathers up the severed finger bits, Benny, Krunch, and Sooba finish off the dismembered and disarmed soldiers. All while Toyk watches impotently from his throne.
TOYK
Stop! STOP!!!
Cale brings a blade to Toyk's throat.
CALE
Tell me where to find your co-conspirator. Where is the troll chief?
All movement freezes except for every eye in the throne room as it turns to Toyk. Well, every eye but Toyk's. He's not standing there watching in anticipation of what he is going to decide to do, obviously.
GFL Archives
Original: LFG Page 19
First Grouping For Looks: GFL 001
Previous Grouping For Looks: GFL 018