Friday Lart – Fundraising Rocks
Welcome to my probably annual "Wait, it's March already?" post. I can't help but think that when Pope Gregory XIII personally designed the modern calendar, he made the second month the shortest to force us to accept that it's a new year ASAP. He couldn't make January the shortest, of course, because that would be too obvious.
You might be wondering how I got so brain smart. I watched a lot of television as a child, during an era where if the last 2 minutes of a 24 minute cartoon had a lesson, it was considered educational. And the networks got into the game with public service announcements like The More You Know and, the PSA GOAT, Schoolhouse Rock. Which brings us to today's announcement!
Lar picked Schoolhouse Rock as the latest theme for the DeSouzas' 2023 MS Society fundraising efforts: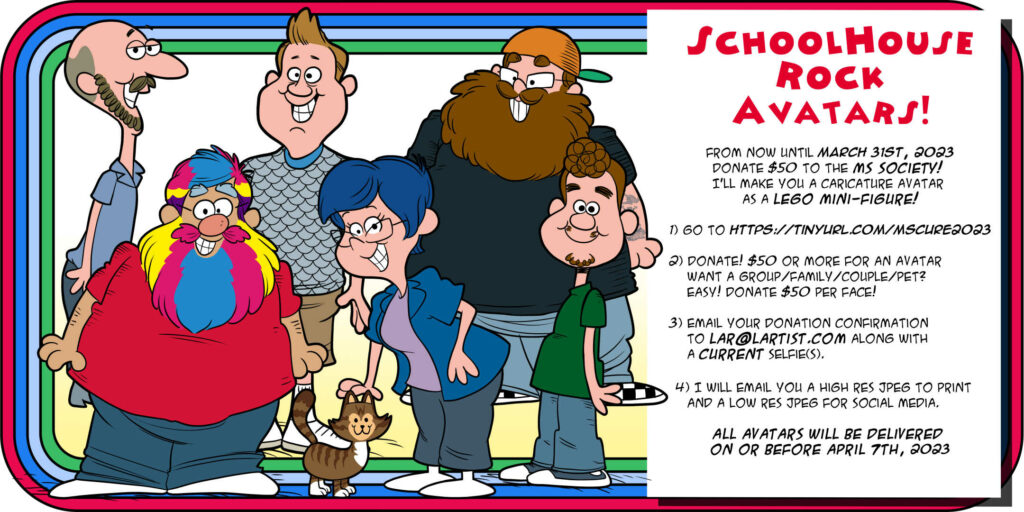 What You Need To Know:
From now until April 7th, 2023, if you donate $50 to the MS Society, plus $50 for every additional face you want in the picture, Lar will make you a Schoolhouse Rock caricature avatar with your choice of details.
Here's what you need to do:
Go here.
Donate $50 or more for an avatar, plus $50 for every extra face.
Email your donation confirmation to la[email protected] along with a current selfie and any requests.
Lar will email you a high res JPEG to print and a low res jpeg for social media.
Act now! You have to donate by the end of April 7th to get an avatar in the style of Schoolhouse Rock.
Now you know,
Costello