Friday Lart – Bluey!
If you haven't watched Australian animated series Bluey, you're just not living up to your full potential. Like, may I still like you, but I could like you more. That's because Bluey might be the most intelligently written show of its generation, with authentic portrayals of children and parents. It's got incredible depth.
Like, there's this one episode, The Show, where the two kids are reenacting how their parents met. People who have watched Bluey already know where I'm going with this. At one point, the younger daughter, Bingo, pretends to be the mom, Chili, when she was pregnant by stuffing a balloon in her shirt. After some roughhousing, the balloon pops, and there's this one two-second reaction shot of the parents that makes every adult viewer paying attention ask "Did Chili have a miscarriage?" This, just a few minutes after the titular older daughter, Bluey, impersonates her father by pretending to fart uncontrollably.
I'm not saying no other show has fart jokes and miscarriage subplots, but no show balances fart jokes and miscarriage subplots better than Bluey.
Where was I going with this?
New Fundraising Theme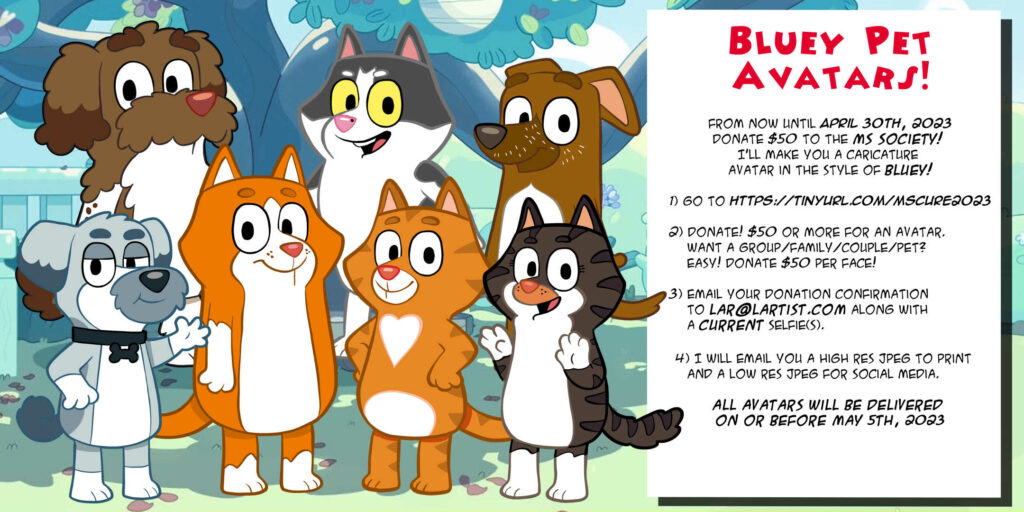 Lar announced a new theme for the DeSouzas MS Society fundraising efforts! In exchange for donating to this worthy cause, Lar will draw you in the style of a Bluey character. Originally he announced that he would draw a Bluey caricature of your pet, but he extended that to either pets or humans.
Here's How:
From now until May 5th, 2023, if you donate $50 to the MS Society, plus $50 for every additional face you want in the picture, Lar will make you a Bluey caricature avatar with your choice of details.
Here's what you need to do:
Go here.
Donate $50 or more for an avatar, plus $50 for every extra face.
Email your donation confirmation to la[email protected] along with a current selfie and any requests.
Lar will email you a high res JPEG to print and a low res jpeg for social media.
If you're on the fence, it's because you haven't watched Bluey, something you need to correct immediately!
Now you know,
Costello