Fork of Truth, K-14
For the last 6 months, we here at Blind Ferret, hand in hand with the guys at Paladin Studios have been working ridiculously hard on a brand new project. And now, we're finally ready to talk about it.
Every weekday, from now until June 20th, I'll be posting a little teaser for our upcoming Video Game: LFG & The Fork of Truth.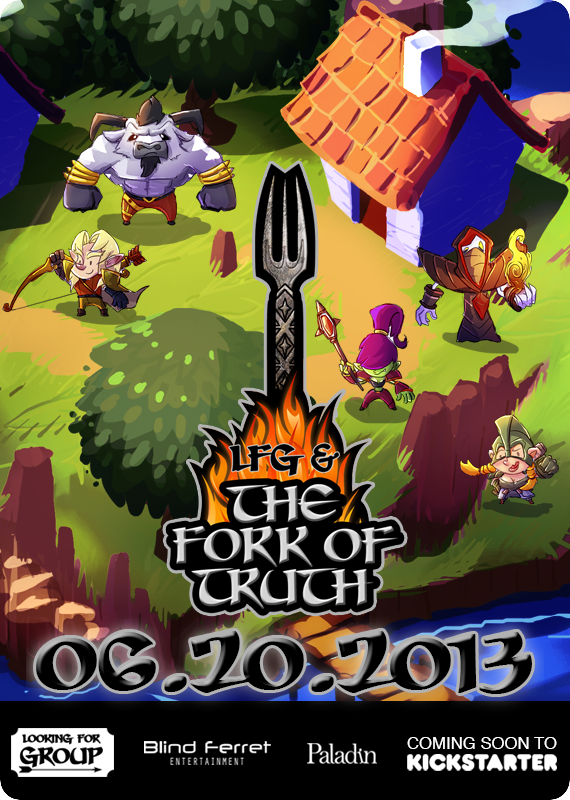 I'll also be sharing key information, such as the game will launch for PC & Mac and be both single player and up to 4 player multiplayer online/wifi co-op. If that's not enough for you, I'll be showing you some video from time to time as well as some sound bites from the voice actors.
I may even answer a question or two that you pose in the comments section of this very post.
June 20th is the date we'll be launching our largest and most ambitious Kickstarter to date, and I'm hugely nervous and excited at the same time. This is kind of a big deal for us, and I hope you get as involved as you can, as we all make our first video game together.
I'd be remiss if I didn't publicly show my appreciation for the boys at Paladin Studios, who've been holding my hand throughout the last few months of working together and will often hold me while I sleep.
We've been focused on getting the core mechanics of the game setup, to make sure that by the time the Kickstarter goes live, you'll be able to see a great slice of the overall game.
I'll see you back here tomorrow with more treats.
-Because I Can.