Announcement: Tiny Dick's Briefs
The Short version-
This week we're launching Tiny Dick's Briefs, a series of animated shorts starring Tiny Dick (of TDA fame), which will be airing for free on Youtube.
Watch. Like. Comment. Subscribe. That's how you can support us.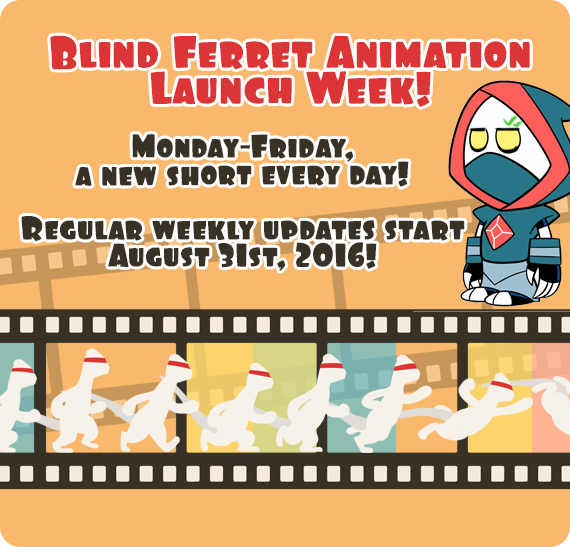 The Long version-
About a year ago now, we made the decision and quietly began to rebuild our animation studio.
While I would have loved to dive right into a larger project, I moreso wanted to create animated content with the same quality and consistency you've hopefully noticed in our comics. Continued animation at regular intervals, on a schedule.
That means shorts.
The next question became – what to animate? And how?
My first love will always be traditional 2D, but producing is prohibitively pricey, so we compromised on a hybrid mix of hand drawn and cut out animation. What sealed the deal for me on this approach, was the fact that we were able to hire Nancy Choquette back as lead animator.
For those not familiar with that name, Nancy is the animator who started working for me a decade ago, and was lead animator on both Slaughter Your World and This is War. Suffice it to say, if Nancy says she can make something look good, it'll look good.
And seeing at how we had already decided to make these shorts, 30-60 seconds each, they would have to be non-sequiturs, one-offs that could be enjoyed by themselves. Thus, Tiny Dick it was.
While this wasn't the Richard we had animated before, there was no hesitation to have Dave Mitchell back to voice this tiny incarnation.
When you watch the first episode, you'll notice it seems a little familiar. That said, the use of the first TDA strip fit in perfectly here, all other episodes are original content, written by me and a host of other writers I very much enjoy, such as Rich Stevens, of Diesel Sweeties fame.
To celebrate this momentous launch, we'll have 3 new episodes of Tiny Dick's Briefs on our youtube channel and 2 episodes of something else (heh) this week. Starting next week, we begin our regular program of debuting new episodes on Wednesday.
As I stated above, the shorts are free to view and the last thing I want to do is put them behind a paywall. The best way to ensure that doesn't happen is to interact with these shorts as much as humanly possible. Watch them all, like them, comment on them, share the crap out of them, and almost more importantly, be sure to subscribe to the Blind Ferret Studios youtube channel.
We're making these videos no matter what, the distribution of them is up to you folks.
The better these do, the faster we can ramp up our little studio into something that can handle larger projects.
And that's it, folks.
Let's start this journey together and see where our Tiny Dick takes us.
-Because I Can.