November 25, 2015
Here we go, friends! Once you stuff your face with all the turkey and pumpkin pie you can handle, we've put together a selection of delicious deals in our Shop. That's right, it's time for that annual orgy of consumerism known as: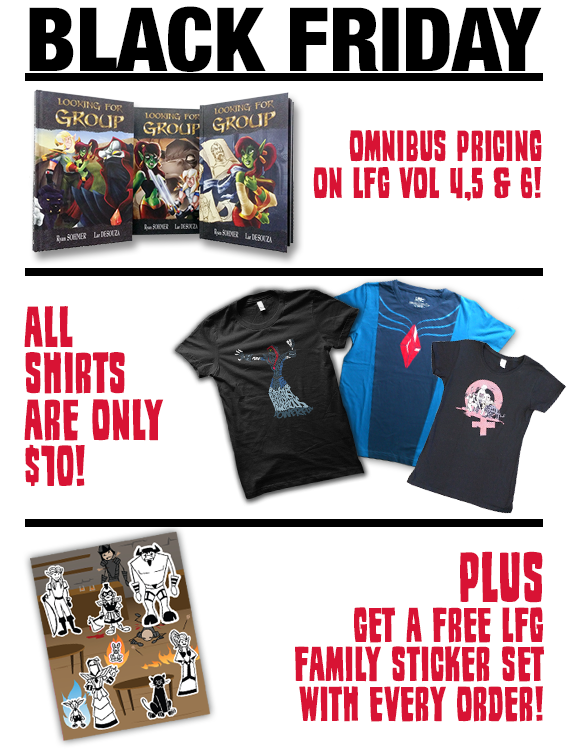 And that's just the start! Check out all the details right here:
We've got "Omnibus Pricing" on LFG Vol.4,5 & 6. That's right, you can get these three volumes for only $40!
Want to get in on the beginning of all the LFG comics? How about an LFG Starter Bundle (LFG Omnibus, NPC V1 & Tiny Dick V1) for only $45?
Remember our Bag O'Dicks Bundle (Richard Plush, Squishable, Hat, Minifig, & Keychain)? We're giving an even bigger discount on that one and you can get it all for only $50!
The LFG Adventures RPG Box Set comes with a FREE extra adventure!
Also, as mentioned above, All Shirts are $10 and every order gets a FREE LFG Family Sticker set!
Plus, there are other Liquidation items scattered throughout the store! Poke around and see what you can find!
All the sales will go into effect at 12:01am on Black Friday, Nov 27th and end at 11:59pm on Cyber Monday, Nov 30th.
So get ready, get set and get it while the getting is good, everyone!
-Moss