Will | March 23, 2017
As many of you know, we've been talking about this cool new TDA Game for iOS. We've launched an iOS only Beta, we've been talking about the iOS launch, and this has left many of you asking: But what about Android?
Well, good news! TDA will be coming to Android shortly after the iOS launch. We've been using the Unity game engine to build our game, and one of the main reasons for this is because it's easy to build it for multiple platforms. So, why the delay? Once we're done the iOS version, there are a few Android specific things we'll need to add to the game so that it works properly. On top of that, we'll be adding a social media connection that will hopefully allow Android users to share a leaderboard with their iOS friends. That's our way of getting everyone to play together. If all goes according to plan, the Android Beta should launch late April/Early-May. If things go well enough, we might not even need one!
We're at the point in the current Beta where most of the large bugs have been caught, and we're implementing our final features. It's really an exciting time in the development process as we come closer and closer to making this crazy project a reality.
Two weeks ago, I wrote a small showcase about Shang, our awesome dev. This week, I'd like to introduce everyone to our lead artist for the project: Aurélie.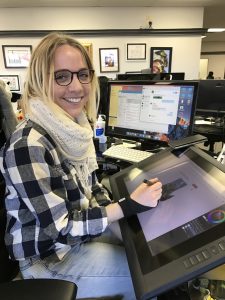 Besides hating having her picture taken, Aurélie is a fantastic artist! Lar is usually super busy doing nine comic pages every week and the thousand other things he draws, so a lot of the LFG art outside the comic actually comes from Aurélie. That includes Ambrosia, An Old Doubt, and all the art in the LFG – Adventures Box Set. When it comes to the game, Aurélie came up with the UI, all the 2D assets, the concept art for all the 3D assets, and oversaw the creation of everything visual. She's even provided some great input to some of the key gameplay elements and is always willing to fight me when I'm being stubborn about something. Like the rest of the team, Aurélie is also a gamer, so she's great at thinking and creating with the player experience in mind. Three cheers for Aurélie!
I'll post another update in a couple of weeks when we've brought the game even further along. If you have any questions, feel free to post them in the comments below.
Warm those gaming thumbs up. Good things are coming!