GFL – Page 0046
Grouping For Looks is a page-by-page retelling of the Looking For Group saga through the lens of a mirror universe where Cale is a goateed tyrant and Richard is a holy soul trying to set him on a good path.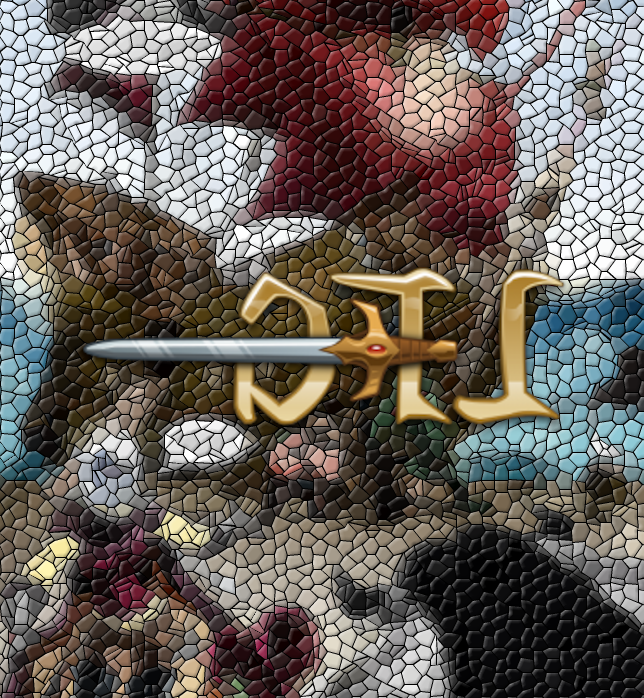 EXT. THE PORT OF TYNE – DAY
Krunch climbs rope and rigging to get to the top of a barrel. Sailors and pirates -not a one singing a sea shanty somehow, eye him as they go about their business.
KRUNCH
I will be brief. We require passage for five. The voyage will be long though the soin will be heavy. Questions may be asked, but they won't be answered.
A salty dog with dirty sideburns and yellow teeth scoffs at the minitaur.
SALTY DOG
Ain't ye a lil short for a seacow?
Krunch leaps from the barrel onto the Salty Dog's face. He climbs the confused sailor's facial hair, and forces his way into his mouth and down his throat.
Everyone on the dock stands flabbergasted, the Salty Dog most of all. His confusion turns to contemplation for the splitest of seconds.
Krunch brusts horn-first through the Salty Dog's chest, killing him instantly in an explosion of blood and sinew.
KRUNCH
Pinkie. The swords.
Cale merrily drags his blades through the blood, magically illuminating the map to Kethenecia.
KRUNCH
This is where we're he-
A hooded sailor steps forward, uncloaking her face to reveal blue skin, elven ears, and a scar over her red glass eye. This is CAPTAIN TAH'VRAAY.
TAH'VRAAY
Krunch?
KRUNCH
Tah'Vraay?
The blue elf hugs the minitaur. Despite the size difference, they fit together nicely.
TAH'VRAAY
When did you get so dramatic? If you wanted a lift, you could have just asked.
KRUNCH
The thing is-
Benny steps forward.
BENNY
We don't have the money. We're kind of in debt.
Tah'Vraay pokes Krunch's tiny but muscular chest with the tip of her lithe elbow. The elf and the minitaur look to Benny then exchange knowing glances. Tah'Vraay smirks.
TAH'VRAAY
We'll work something out. For now, welcome aboard…
Pull back to reveal a ship so big it should have been its own page.
TAH'VRAAY
…The Father's Bones!
GFL Archives
Original: LFG Page 46
First Grouping For Looks: GFL 001
Previous Grouping For Looks: GFL 045