A couple of months ago, we announced the return of Dick Craft, inviting our fans to put their creative skills to the test. Looking For Group's Facebook page was graced with the three finalists, whose entries, and the resulting Likes, are below: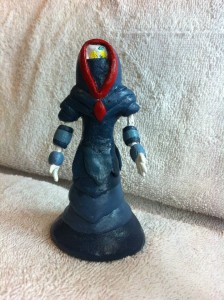 Dick Craft 2015 Finalist #1 by Laura Ormston! – 70 Likes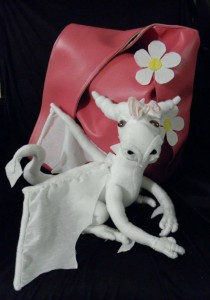 Dick Craft 2015 Finalist #2 by Melissa Egolf! – 163 Likes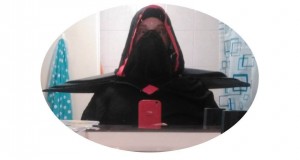 Dick Craft 2015 Finalist #3 by Valerie McDermott! – 40 Likes
Using a scoring system we like to call "reverse golf", we determined that the winner of Dick Craft 2015 was: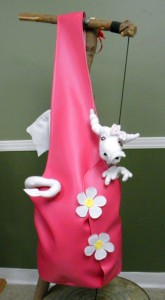 Melissa Egolf!!!
Congratulations, Melissa. As LFG fan Joy '(I feel safe assuming) safyrejet' Trujillo put it, "It's the little details that really make this shine." There is a lot of character to your dragon purse (complete with dragon and purse) entry. Either one could have ended up generic looking, but anyone familiar with the source material should be able to instantly recognize these from the pages of Looking For Group.
As the undisputed Dick Craft 2015 champion of the world, you have a full set of Dynamite's Looking For Group vol 1, each autographed by Ryan Sohmer coming to you, as well as a Looking For Group Challenge Coin! Our runners-up will both receive copies of Dynamite's Looking For Group #1-3! And you, loyal reader, receive the top comments for June 12th to June 25th, 2015.
NPC part 15, page 8
Eoraptor  Memnar
somehow I don't think they passed any "Ye Olde Fluffe & Fold" to drop it off to be detailed on the way from the murder site to the bar.
cpc65
The tavern is having a special. Bring in a bloody helmet and drinks are half-price.
LFG 887
Lightmaxime
Is it me, or is Pella enjoying being tied up?
… Not that I'm not enjoying the view, but…
Garioki
In a cave, it's ALWAYS 50 shades of grey :p
Speedy Marsh
[You think you own me]
NPC part 15, page 9
Lily Kusatsu
What a peasant lifestyle.
gagaplex
Sayl's just two days from retirement!
TDA 70
Jaymer 161
All I have to say on this is simple: Let's not preposition the artists we like for breeding purposes. At least woo them first my friend.
LFG 888
Justin Eiler
Rejoice. For very bad things are about to happen.
Angel D. Figueroa
We keep forgetting that Cale is a badass because he's such an idiot
DVS BSTrD
That soldier having horn on only one side of his helmet causes me no small amount of vexation.
LaughingTarget
Translation:
Cale – "My feet are large tomatoes!"
Mini-Warlocks – "I really hate it when people make fun of our language by saying random nonsense."
NPC part 15, page 10
Speedy Marsh
We're Batman.
MegaduceFlare
He either has one hell of a throwing arm, or that building is made out of cardboard.
LaughingTarget
YO! It's the Sayl machine
Gonna rock the town without being seen
Have you ever seen a crime boss kid Get Down?
Slammin and Jammin to the new swing sound
Yeah, everybody let's move
Sayl is here with the New Legaria Groove
Gonna rock, And roll this place
With the power of the ninja crime boss kid bass
Saylman, Ya know I'm not playin
Ninja, Ninja, RAP! Ninja, Ninja, RAP! GO GO GO GO!
Go Ninja, Go Ninja, GO: Go Ninja, Go Ninja, GO!
Go Ninja, Go Ninja, GO: Go Ninja, Go Ninja, GO!
GO GO GO GO!
LFG 889
Tricia
I love that one of the Chachas is POKING the giant.
Sapphire Crook
Giants can be sneaky. Just like trains can. If you live near trains all your life, you stop noticing them. And when you least expect it… BAM, backstabbed.  All because you assumed they never noticed you.
Michigan J. Frog
*Looks up and down for Speedy Marsh*… Well, I guess I'll start it this time. "It's not my fault being the biggest and the strongest. I don't even exercise."
NPC part 15, page 11
Joshua Royer
Am I the only one who wants to see both of these human characters…die?
alexandre
they already dyed
LaughingTarget
Was just thinking, I love the whole "hood = anonymity" trope. Because if I see a guy wandering down the street in a dark hood trying to hide his face, that totally doesn't scream, "Hey, look at me everyone!"
TDA 71
Irabbit75
So if I try to burn down an orphanage Taylor Swift will magically appear? Hmmmmmmm
Benjamin William Shulman
See, what people are failing to realize is that Richard was whistling the tune of one of her songs without permission. She isn't providing any commentary on his burning the orphanage. Richard just realizes that the music is her IP and he isn't a thief, just an arsonist.
LFG 890
Flavourius
Look out the Chacha at panel 3. He mastered the Cale-landing!
Galileo Figaro
I'm going to need you to slap my baby.
And suddenly, LFG got a lot more kinkier.
That's it for another edition of top comments. Until next time, be excellent to each other!
-Costello