Costello | March 16, 2017
By now you have to have heard about our All-In-1 Kickstarter campaign for the Richard Action Figure. To the best of my memory, I never teased about any other product on the blog that wasn't available either to order or preorder, but I teased the Richard action figure twice. That's because I'm so excited about this project, I couldn't keep it to myself even if I couldn't really share details.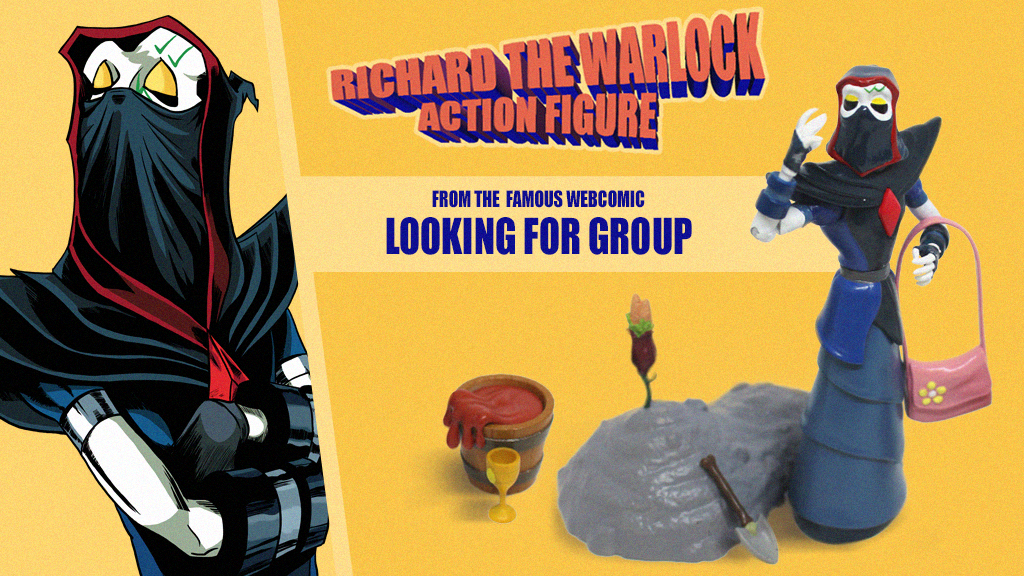 Action figures have always been an important part of my life. I collected them enthusiastically until it wasn't socially acceptable to, then I collected them secretly through high school, and then openly again as an adult when it became socially acceptable again and ebay became a thing. I knew my girlfriend was my soulmate when she started accompanying me to toy shows and became friends with my toy collecting friends. My daughter even shares a name with a GI Joe. My little Ice Cream Soldier turned two in February. Now, I've developed an action figure, and it's awesome.
Like it says on Kickstarter, this project's been in development for three years. That's longer than any other project I've developed. Funny enough, it's because I was already an expert on the product that it took so long. I wanted nothing less than perfection. This project was complex enough that I knew we needed to go outside the company for the design, and if we were hiring freelance designers, I wasn't going to settle for anything less than the best. Enter Boss Fight Studio.
Before forming their own studio, the five designers and sculpters at Boss Fight worked on toy lines like Star Wars, Marvel, GI Joe, and Transformers. Their collector- and customizer-friendly Vitruvian HACKS (Highly Articulated Character Kit System) line set the bar for gorgeous and fully poseable action figures. A year and a half of that development process was periodic e-mails to Boss Fight asking "do you have time in your schedule now?" I flipped when the answer from Boss Fight Studio's Design Manager Catrina Cerise-Araña was finally "yes."
Working with Catrina was a thrill for a fan of action figures like me. Technical conversations about articulation options for Richard's lower body were the highlight of my day. I got to say "like Man-E-Faces" in a professional conversation and not only be totally understood but have the potential issues with that direction explained and alternatives suggested.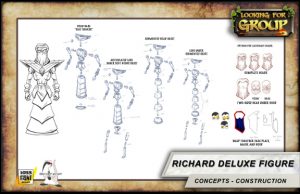 I sent Boss Fight an extensive reference document for potential accessories. We needed a few spell effects, his purse, and the fork of truth. We wanted swappable bear arms but accepted that they might be more of a fight than they were worth. Which Boss Fight super delivered on. The rest of the accessories were a mix of iconic and obscure items. We couldn't fit all of Boss Fight's designs onto the mould, so we have a lot of accessory designs we can mine for future releases. Given the success of the Kickstarter already, that will probably be something we start planning soon.
I've been working closely with a manufacturer since Boss Fight turned over the designs. At one point we could have fast tracked the approval process to have these in hand for Christmas. As appealing as that sounded, nightmares of tiny torso Red Spot kept me from playing fast and loose with quality assurance. It turned out to be the right choice. The first sample was fine, but it wasn't good enough. The head was too big, the bear arms too small, and the colours were just wrong. It took two more samples before everyone here was happy. Just in time to launch the preorder campaign on Kickstarter.
You still have 4 days to get in on the campaign and get the LFG extras along with your fully articulated 4" Dick (or Dicks). That is technically still most of the 7 day campaign but also barely any time at all, so hurry!
Now you know,
Costello