Sohmer | June 11, 2013
Another day, another teaser for LFG & The Fork of Truth. We've got a big treat for you today though, a screenscap from the most recent in-progress (and very early) build of the game: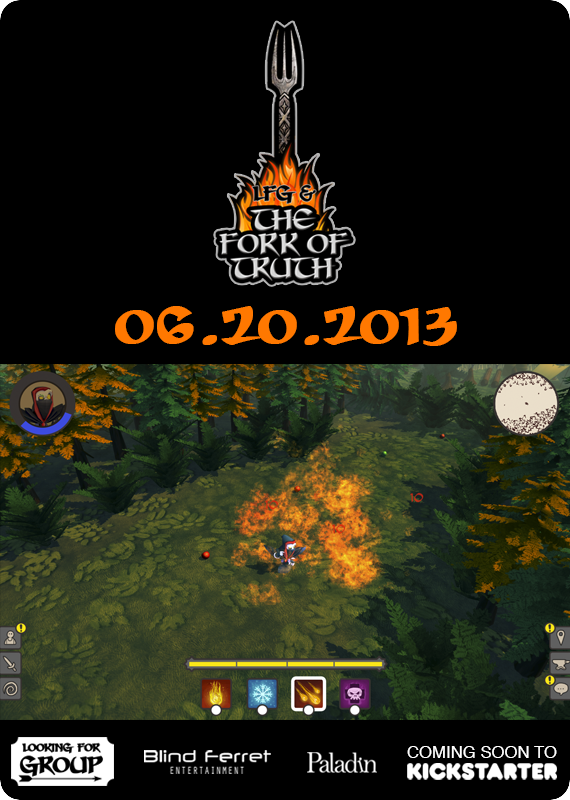 For today's info, I picked 5 questions that were asked on the facebook page about the game and answered them!
Amy Asks: Will Richard sing? Please say he'll sing whilst killing.
The Warlock has music where his soul should be, so yes. Yes he will.
Tue Asks: There won´t be any "pay-to-win" / mikrotransaktion thingies involved? Please say there won´t be!
That wasn't in the form of a question, or proper English, but it does deserve to be addressed.
As a gamer, I can't stand the 'freemium' model for video games. LFG & The Fork of Truth will be sold for a one-time price for all of the content. That's it.
David Asks: What storyline will it follow? The original comics or a side story? And how will it affect the main story?
The game will follow a side story, but set within the first 12-issues of the LFG comic. There will be plenty of easter eggs within the story, as well as pieces of information that will come into play later on.
Tina Asks: Will the felbunny be a mount or at least a companion?
The Felbunny will be a special companion exclusive for Kickstarter backers.
Janet Asks: Other than the main group, will there be other characters we will recognize?
Oh yes.
***
LFG & The Fork of Truth Kickstarter Campaign begins June 20th.
-Because I Can.