The Tiny Dicks Are Marching
It's been a few weeks since we've talked about the upcoming TDA Mobile Game, so I thought I'd provide a bit of an update for those of you who aren't in the closed beta. We originally received over 2,000 entries for the closed beta, and we chose about 150 for the first wave of testing. We're now on to the second round of testing, and it's possible we'll be adding some more people as testers. If you were one of the original applicants, make sure that bugs<at>blindferret<dot>com is whitelisted in your email because you may hear from us!
Our Testers have been giving us some great feedback and we've been learning a lot about the game's perks and limitations. Here are some of the things we know now:
The earliest compatible iPhone is currently the 5c.
The earliest compatible iPad Mini is the second generation.
The earliest compatible iPad Air is the second generation.
The earliest compatible iPad is the third generation.
People really care which way their device is rotated when playing a game.
Tutorials are really important for certain aspects and really irrelevant for other aspects.
More fire is always better.
Since today is International Women's Day, I would like to let everyone know that as the only male on the team, I appreciate all the women that have made this game possible. Especially our awesome dev Shang.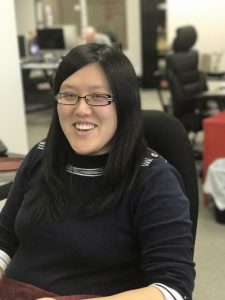 Besides being the person that Sohmer puts in charge every time we leave for a convention, Shang is the whole reason this game is a reality. Using Unity, she has worked many long and hard hours making bugs, squashing bugs, and also working on the game! She's amazing at meeting my unreasonable demands, and learning new skills on the fly to make this the best TDA Mobile Game possible. As a project lead and a first-time game designer, I couldn't find a better partner in crime if I tried. Thank you, Shang, for being great!
I'll do my best to periodically post updates about the game. Now that we've squashed a good chunk of the major bugs, we'll be able to focus on polishing and enhancing some of the effects and features that are already in the game, as well as finalizing all the sound.
Every day, we're leaps and bounds closer to having this game ready for launch, so stay tuned!