GFL – Page 0068
Grouping For Looks is a page-by-page retelling of the Looking For Group saga through the lens of a mirror universe where Cale is a goateed tyrant and Richard is a holy soul trying to set him on a good path.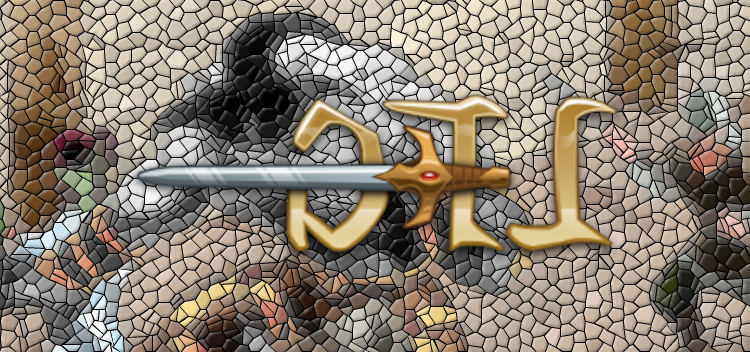 EXT. TOWN BORDERING KETHENECIA – THE PAST* – DAY
The gateway dumps Richard's still still uncorpse into an alley in a town bordering Kethenecia. Sooba, Cale, Tavor, and Benny with minitaur Krunch sitting on her shoulder, take turns gingerly stepping on Richard's chest on their way out of the gate. 
Cale points at Richard's well-trodden body.
CALE
So..?
BENNY
Whatever.
Cale shrugs and moves on. A rumble makes his knees lock and his ears twitch.
CALE
Is that thunder?
An aged and experienced Dwarf soldier in ornate white armor strides over on horseback.
GENERAL BREEM
Thunder, boy? More like the steady march of soldiers on the move.
CALE
Are they off to war?
GENERAL BREEM
War, lad? This be nothing more than parade formations.
A human soldier, less fancy and therefore of lower rank (as determined by the more = higher universal rule of fanciness to rank ratio respected by all militaries) rides up.
VAYCON
Sorry. He always does this.
GENERAL BREEM
Always, Vaycon? A general who airs his grievances be a leader who doesn't snap when he's had enough.
CALE
Heh. General Grievances.
GENERAL BREEM
A Revenge of the Sith reference, kid? Surely ye know this comic came out in 2007, long before prequel nostalgia set it. Clone Wars wasn't even out yet.
BENNY
O.K. Deadpool.
GENERAL BREEM
Because of the fourth wall breaking, lass? Surely ye'd been better served feeling old that this page originally release 14 years ag-
VAYCON
General!
Vaycon points at the tiny bull person on Benny's shoulder.
VAYCON
How cute is he?
Breem smiles for the first time.
GENERAL BREEM
Awww. Who be an adorable widdle bull man? Ye be! Ye be!
KRUNCH
Don't make me break the fourth wall with your face.
*Hm, maybe I should have included "The Present" in the location headers up till now. Hope no one was confused about what was happening when.
GFL Archives
Original: LFG Page 68
First Grouping For Looks: GFL 001
Previous Grouping For Looks: GFL 067